Cheap Pool Covers

Cheap pool covers with water tubes can be used rather than custom ones that use the anchor system.  You can save literally hundreds of dollars by going this route.

Discount Pool Covers
Water Bag System

Using water bags to secure a standard size inground swimming pool cover like the one pictured rather than the taut anchor system can work effectively especially if you have a rectangular shaped pool.
Measure your pool and be sure to include the steps. Most covers provide an extra 5 feet for placing the water bags.
The Blue Wave Siler uses heavy duty polyethelene fabric that is sturdy but light weight - which makes it easier to manuever - whether placing it on in the fall or removing it in the spring.
Another nice feature they offer is a black underside to help prevent UV light from entering the pool which retards the growth of algae.
Every four feet there are loops to secure the water bags. The
water tubes
are sold separately and the recommended number of them needed is provided depending on what size cover you purchase.
Often a pump is needed to drain off the excess water that accumulates on the top of the cover.

Turn off your pool, winterize it and cover it for a nice break from pool maintenance.
Blue Wave Silver In-Ground Winter Pool Cover
Rectangle Cheap Pool Covers
If you have a rectangle shaped ingrained pool you might be able to save some money by buying a pre-made rather than custom swimming pool safety cover.
The cover, all the hardware and the install tool comes with this order.  However you will need to drill the holes into your pool deck cement yourself.  If you don't mind doing this yourself you can save a lot of money compared to buying a custom safety pool cover.
Blue Wave 18-ft x 36-ft Rectangular In Ground Pool Safety Cover
Swimming Pool Leaf Covers

Pool leaf covers help to reduce your pool maintenance by keeping the leaves out of your pool year round or from accumulating on a winter swimming pool cover.
This cover is actually a separate net that you place over a winter cover or they can be used alone to keep the leaves out.
If you live in milder climates that still have trees that drop their leaves in the fall, you may want to simply have a leaf cover if you don't close your pool or if you want to delay closing your pool
Decaying, messy piles of leaves on your inground pool cover can make your spring clean up a real hassle. This inexpensive net can help keep your pool cover clean if you cover your pool with the netting before the leaves start falling.
Lay the net over your winter cover in the fall when you close your pool. Let it collect the leaves as they fall from the trees and then remove it in when the trees are bare or before the first snow fall.
The covers usually have a 4- 5 foot overlap and are kept in place with water tubes. Just place the water tubes on top of the net in several places on each side.
The warranties on these covers range from 4 years to 8 years. These work well for standard size rectangular shaped swimming pools.

Leaf covers can be purchased from your local pool stores or online - like this one from Amazon which is just under $70 and has free shipping.

16 x 32 Rectangle Pool Leaf Covers
Go from Cheap Pool Covers to Inground Pool Cover
Return to Pool Fun for Everyone Home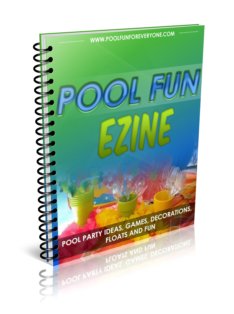 Looking for ideas to have fun with friends and family out by the pool? Get free tips on:
Pool Party Themes, Invitations, Games and Decorations
Outdoor Patio Umbrellas - Frame, Fabric and the Best Size
Swimming Pool Floats for Infants, Kids and Adults

Pool Party Food from Summer Appetizers to Cold Desserts
Outdoor Party Lights
- Patio Umbrella Lights to Solar Torches

Sign up here:
© Copyright 2011 - 2019 www.PoolFunforEveryone.com
All rights reserved. This DMCA site is protected under U.S. and International copyright laws. Do Not Copy and Content or Images. No use is permitted without written permission.