Cool Pool Toys for All Day Pool Fun

These cool pool toys will keep you, your kids and their friends entertained and in the pool all day. Whether it's a new pool float or a game that sends you to the bottom of the pool, give your pool some new excitement with some of these ideas.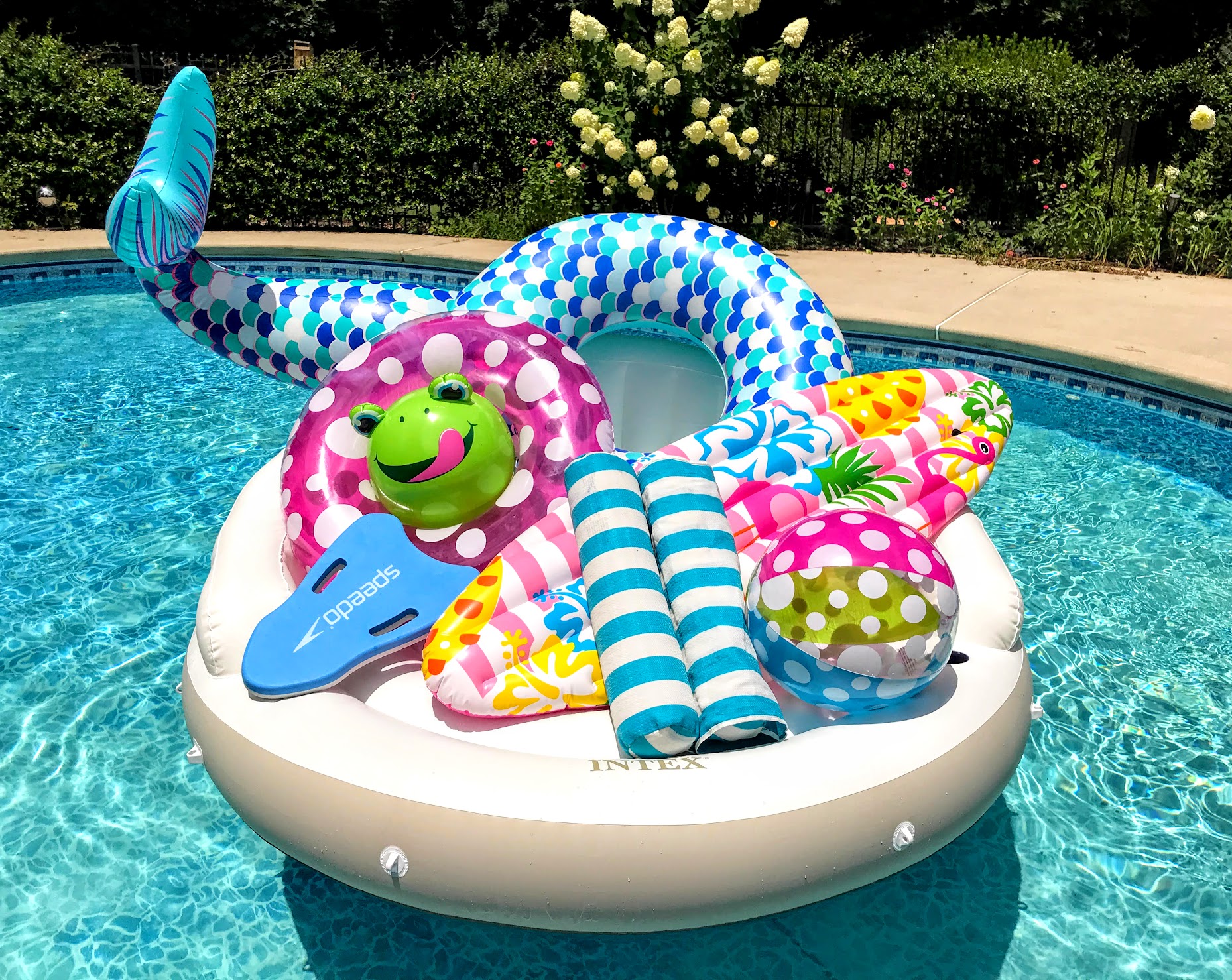 Pool floats and toys need to be geared to the age and swimming ability of those using them. They need to be durable and last for at least one swimming season.
Inflatable Pool Slide
Our pool is attracting lots of visitors lately thanks to this cool inflatable pool slide.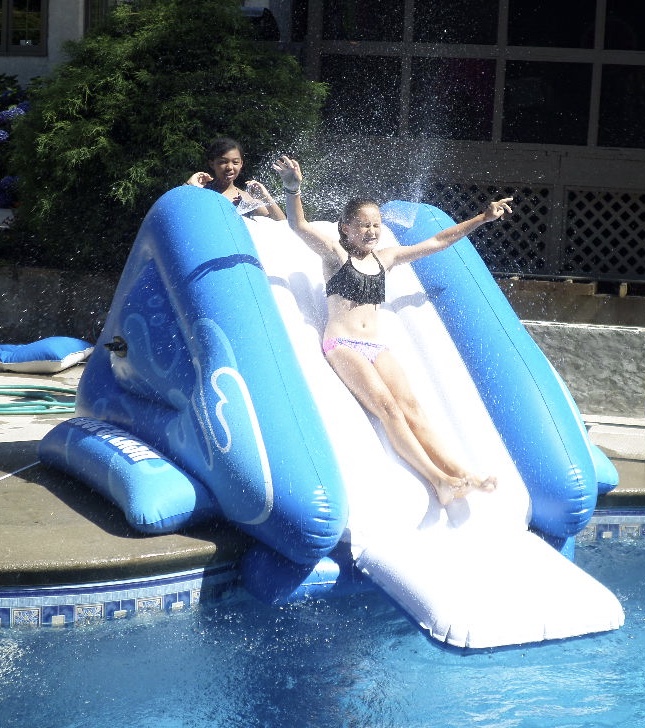 From 3 year olds to 13 year olds the slide is a big hit.  Two sprinklers on the top attached to a hose keep the vinyl wet and slippery. 
Steps and grab handles in the back make it easy to climb.  Put it in the deep end for big kids and the shallow end for the little ones.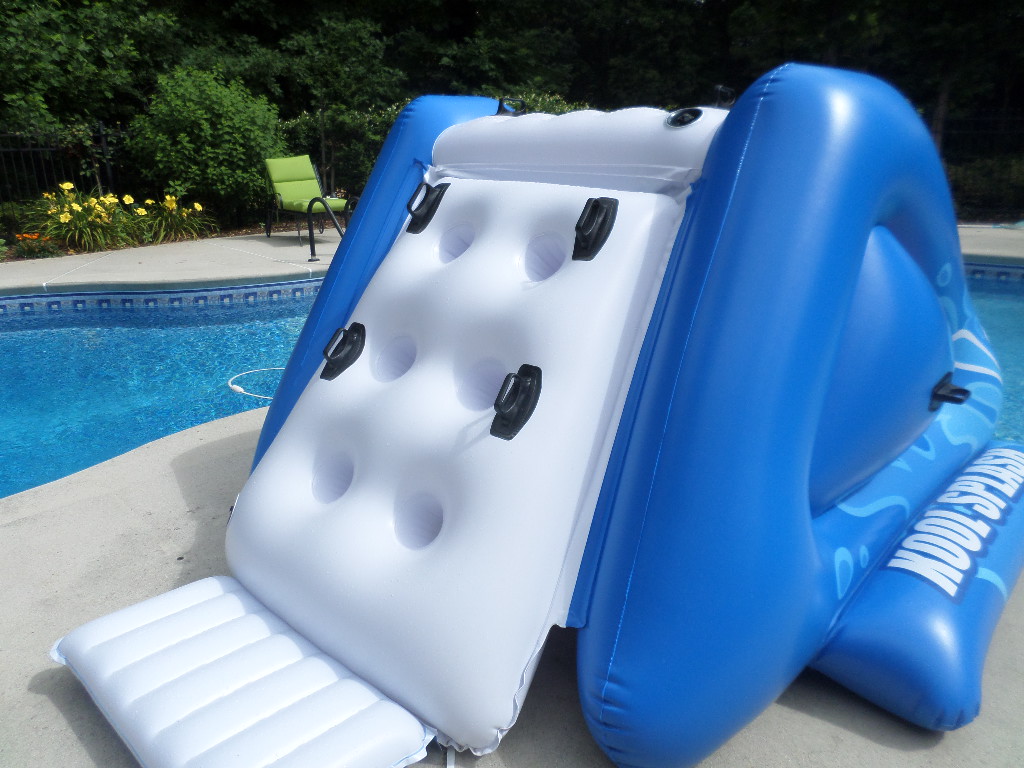 We use a
portable air pump
out by the pool and inflated very quickly.
So far it's staying inflated and family and friends want to know when they can come back.  Before inflating the pool slide determine where you want to place it so you're not dragging it across the cement and causing any leaks.  Don't over-inflate - you can tell if it's over-inflated if you see that the seams are pulling or strained. 
We found the best price was on Amazon - so get yours there too:
Inflatable Pool Slides
Turn your pool into an ocean adventure with an inflatable surf board.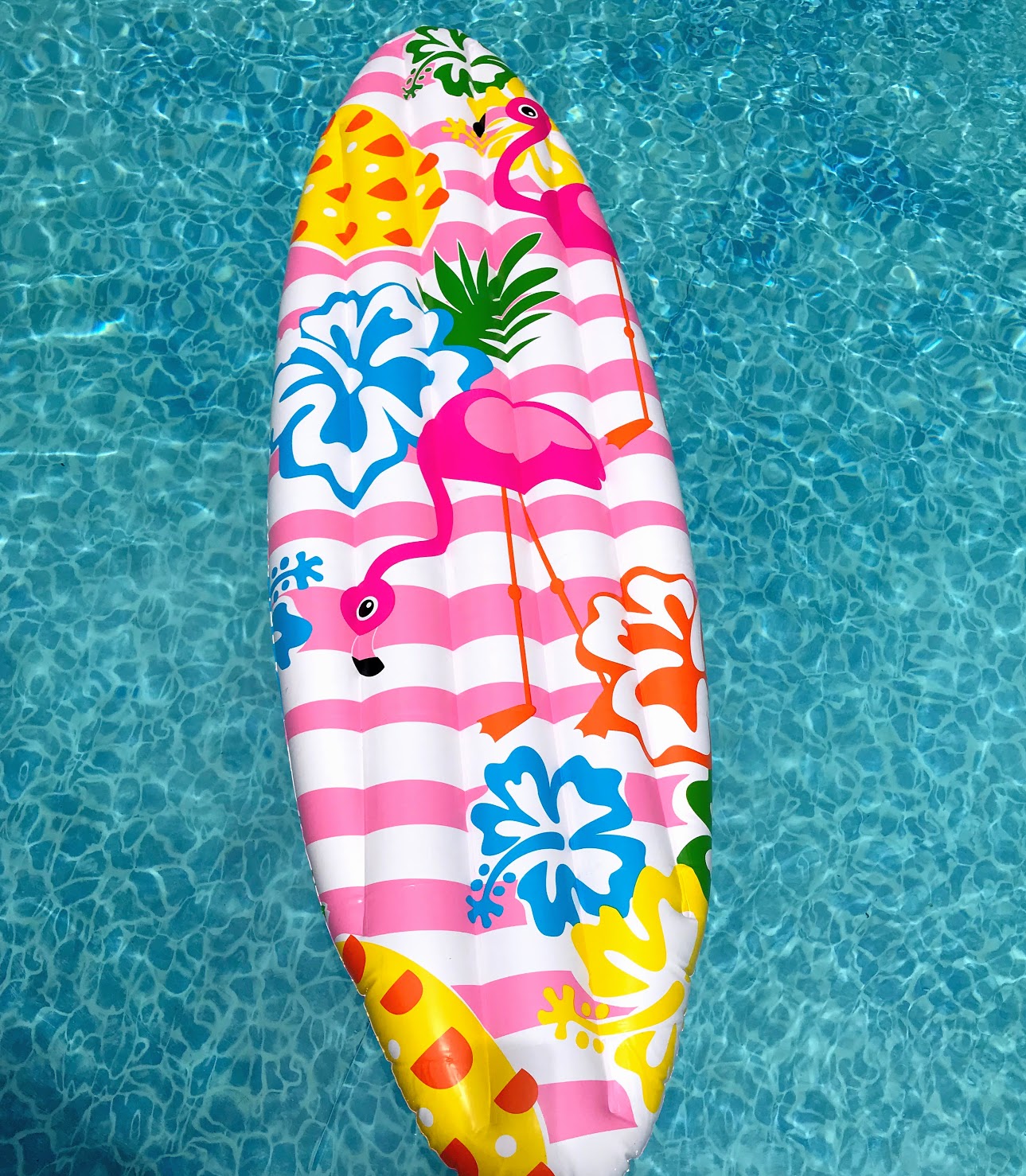 An inflatable surf board pool float has been a big hit for kids from 4-14 years old as they "hit the waves."
Inflatable Surf Board Pool Floats
Pool Basketball
A summer of family visitors had everyone enjoying a game of pool basketball. The hoop is super sturdy and never deflated even with hours of use.

Combined with a diving board, our party of boys age 7-11 kept entertained for hours.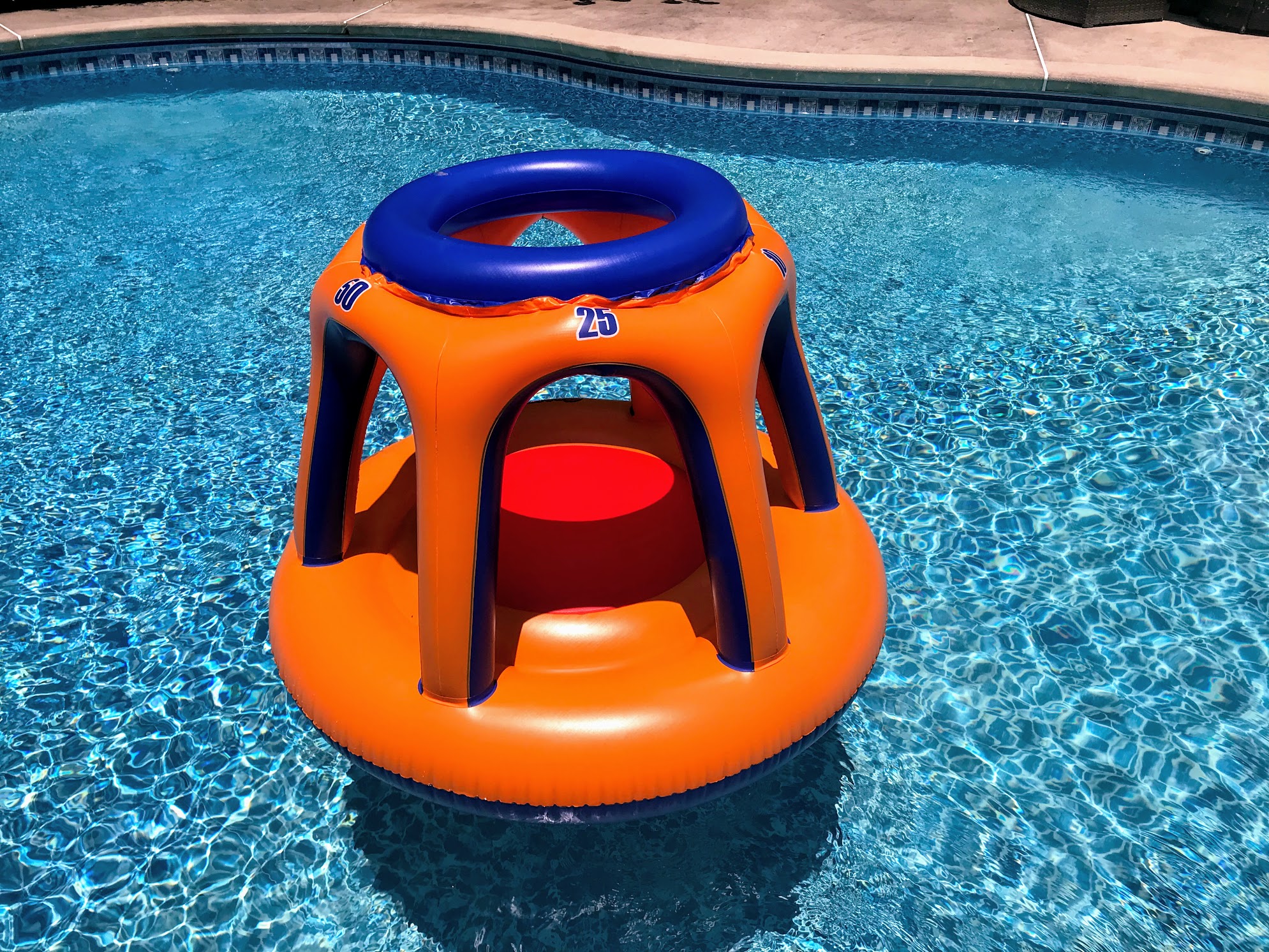 Swimline Pool Basketball Hoop and Basketball
Shark Pool Float
There are some very innovative swimming pool inflatable toys like these shark pool floats.  These pool floats were used for a shark themed pool party and then enjoyed for the rest of the summer.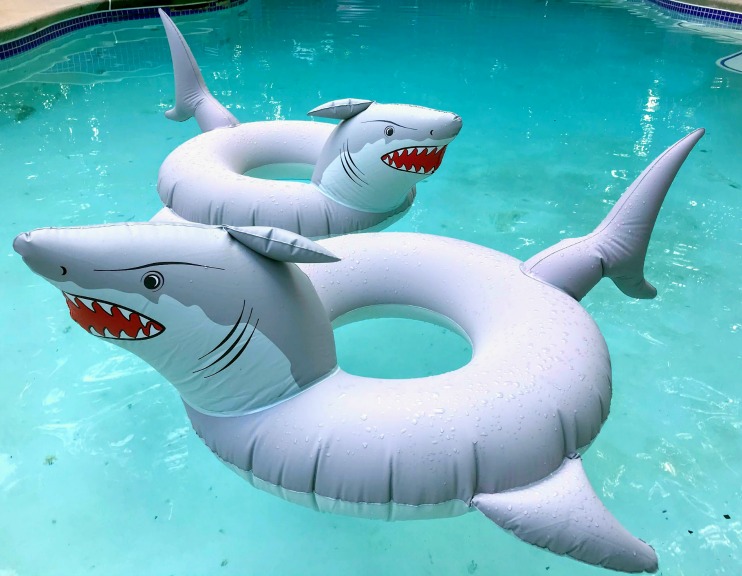 Kids from toddlers to teens seem to enjoy these shark infested waters :)

GoFloats Great White Shark Pool Float
Cool Pool Toys for Diving and Underwater

Swim Through Dive Rings

Swim through dive hoops are a big hit at our pool. Kids love to create their own dive games by combining dive toys and the dive hoops.  
Our granddaughters love swimming through the hoops in search of "treasures" that are on the bottom of the "sea floor."

Swim Through Dive Hoops
Fun Pool Floats
Your kids will love to spend more time in the pool with some fun pool floats - from flamingos to sharks, there's a float for every age and interest.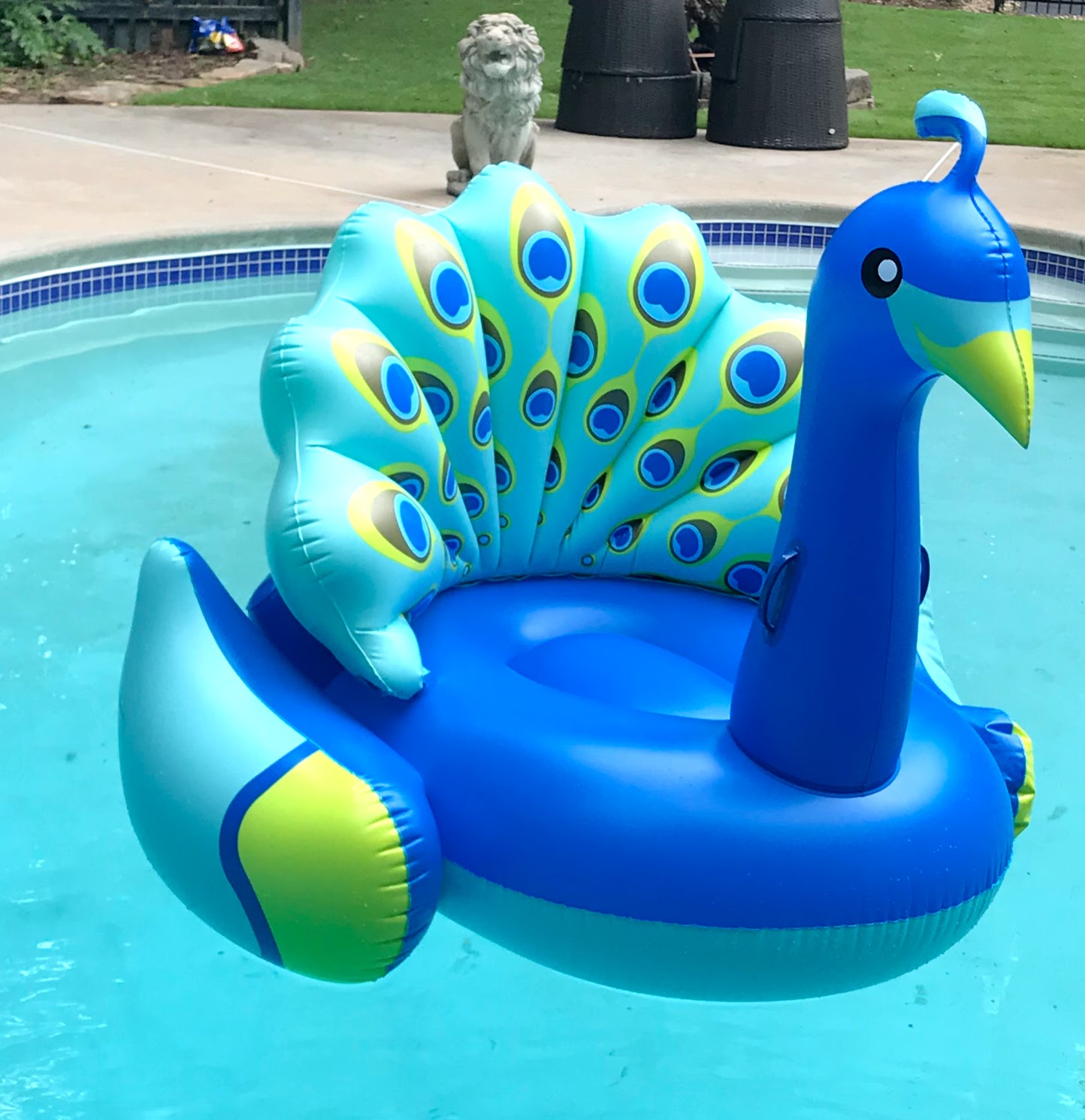 Every summer we let our one of our grandkids choose a fun pool float for the summer.  Ms. Peacock is a big hit and looks so regal floating in our pool.

Fun Pool Floats
Go from Cool Pool Toys to Swimming Pool Toys

Go from Cool Pool Toys to Pool Fun for Everyone Home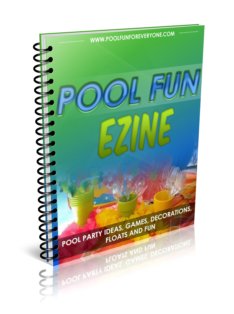 Looking for ideas to have fun with friends and family out by the pool? Get free tips on:
Pool Party Themes, Invitations, Games and Decorations
Outdoor Patio Umbrellas - Frame, Fabric and the Best Size
Swimming Pool Floats for Infants, Kids and Adults

Pool Party Food from Summer Appetizers to Cold Desserts
Outdoor Party Lights - Patio Umbrella Lights to Solar Torches


Sign up here:
© Copyright 2011 - 2023 www.PoolFunforEveryone.com
All rights reserved. This DMCA site is protected under U.S. and International copyright laws. Do Not Copy any Content or Images. No use is permitted without written permission.