Floating Pool Chairs

Floating pool chairs are a great way to relax in the pool by yourself or with other friends. They allow one to sit up to see what is going on (especially if you have kids swimming in the pool) or to visit with friends. So I guess that means you need at least two :)
Pool Lounge Chair

If we have friends over, guests love to just float in the pool in the chairs so that we can have an easy conversation.
These types of swimming pool floats can be made out of inexpensive vinyl, comfortable fabric or out of the more durable, and expensive soft foam.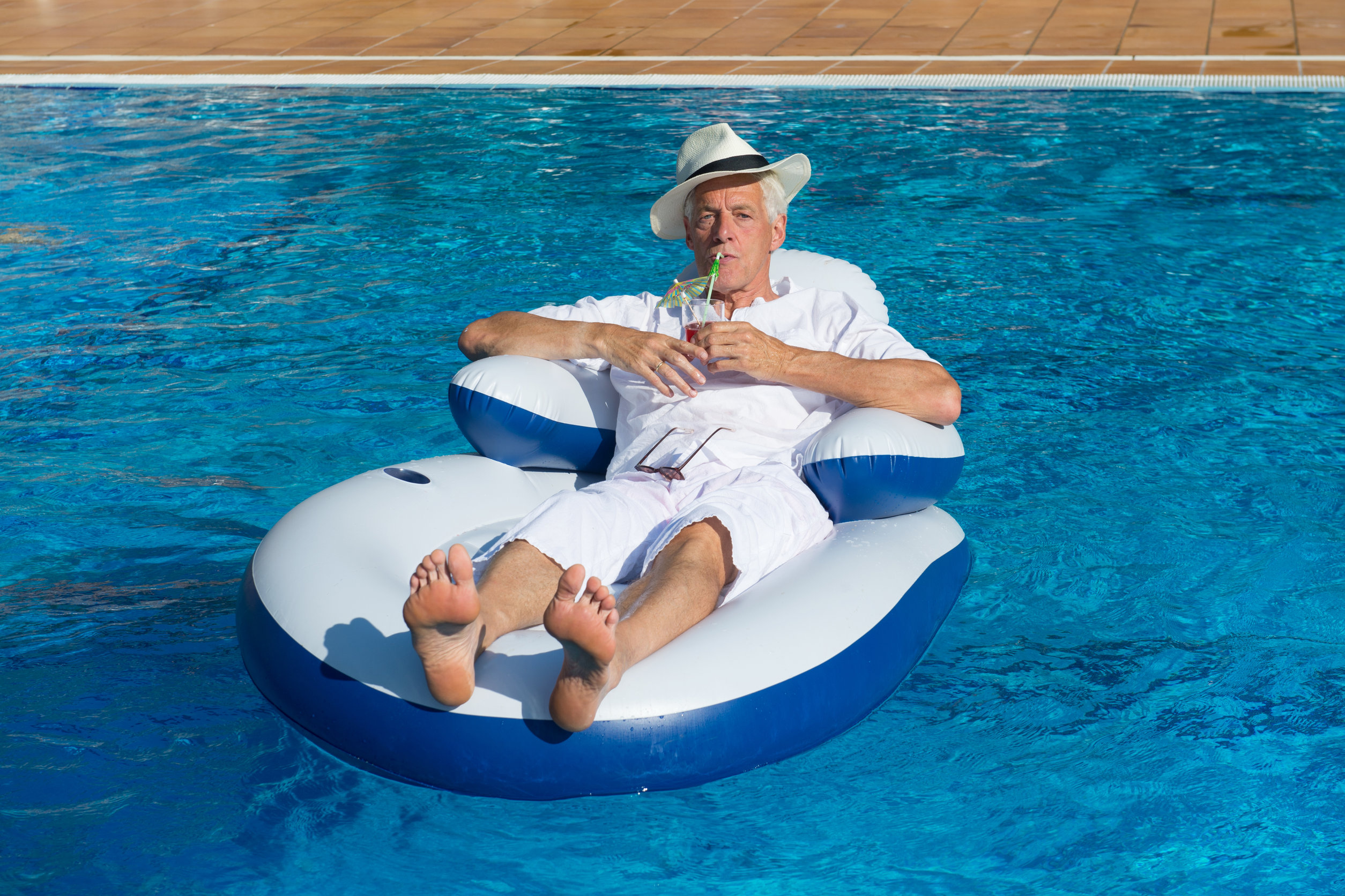 ---
Some links in the following sections are eBay or Amazon affiliate links, which means that if you purchase a product through them I receive a small commission. There is no extra cost to you. Find more details on this page.
---
If you are looking for an adjustable pool lounge chair - look no more. This one has it all - except for a beverage holder. Here is why it's a pool lounger's favorite:
1. Adjustable

Adjusts to different body sizes and weights thanks to adjustable straps that can shorten or lengthen the back piece and the bottom piece.
2. Headrest
It's really a very comfortable chair thanks to the headrest. If you want to really relax just sit back, rest your head and float.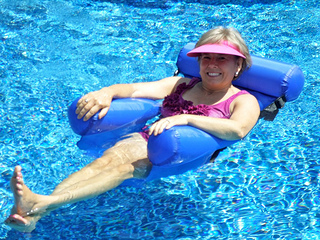 3. Pool Chair Float
Sit up and enjoy the company of friends or keep an eye on the kids by sitting upright
4. Arm Rests
We really like having armrests on our floats. They just add to the feeling of comfort and relaxation.
5. Portable
Deflate the tubes (their are 4 different bladders to blow up or deflate) and it can be easily taken to the pool, the beach, or put in a suitcase.
6. Easy to Store
Doesn't take up much space since the tubes are inflatable.
7. Affordable 
8. Comfortable Fabric
Not sticky like plastic, uses fabric
9. Keeps you Cool
This pool float allows the person to keep cool by sitting in the water rather than floating on top of the water. Go to Amazon to get yours here:
Bean Bag Pool Float
A bean bag pool float is taking over as the number one chair pool float and for good reason.  The comfortable fade resistant fabric sure beats sticky plastic and the adjustable beads conform to any body shape making it the perfect chair for any size person.  
We enjoyed the red bean bag float at the Sheraton Hotel pool in Hawaii and haven't been able to find one just like it, but another option is a bean bag float that's shaped like a chair. 
Big Joe Captain's Bean Bag Float
Inflatable Floating Pool Chairs

These floating swimming pool chairs keep your legs dangling in the water to keep you cool, but your seat is not in the water like the chair with the mesh bottom.
If you like sitting on top of the water - this is the one for you.
When we have friends over to the pool, we like sitting in the floating chairs to keep cool and to keep the conversation going - better than being on a lounge float.
Bubble Pool Float Chair
Floating Swimming Pool Chairs

Floating pool chairs are a big hit for an adult pool party.   They keep you cool and in the conversation with others.
We like these chair floats by Intex. They are nice and big and can handle any size guests (plus a couple of kids). The beverage holders are a nice added feature.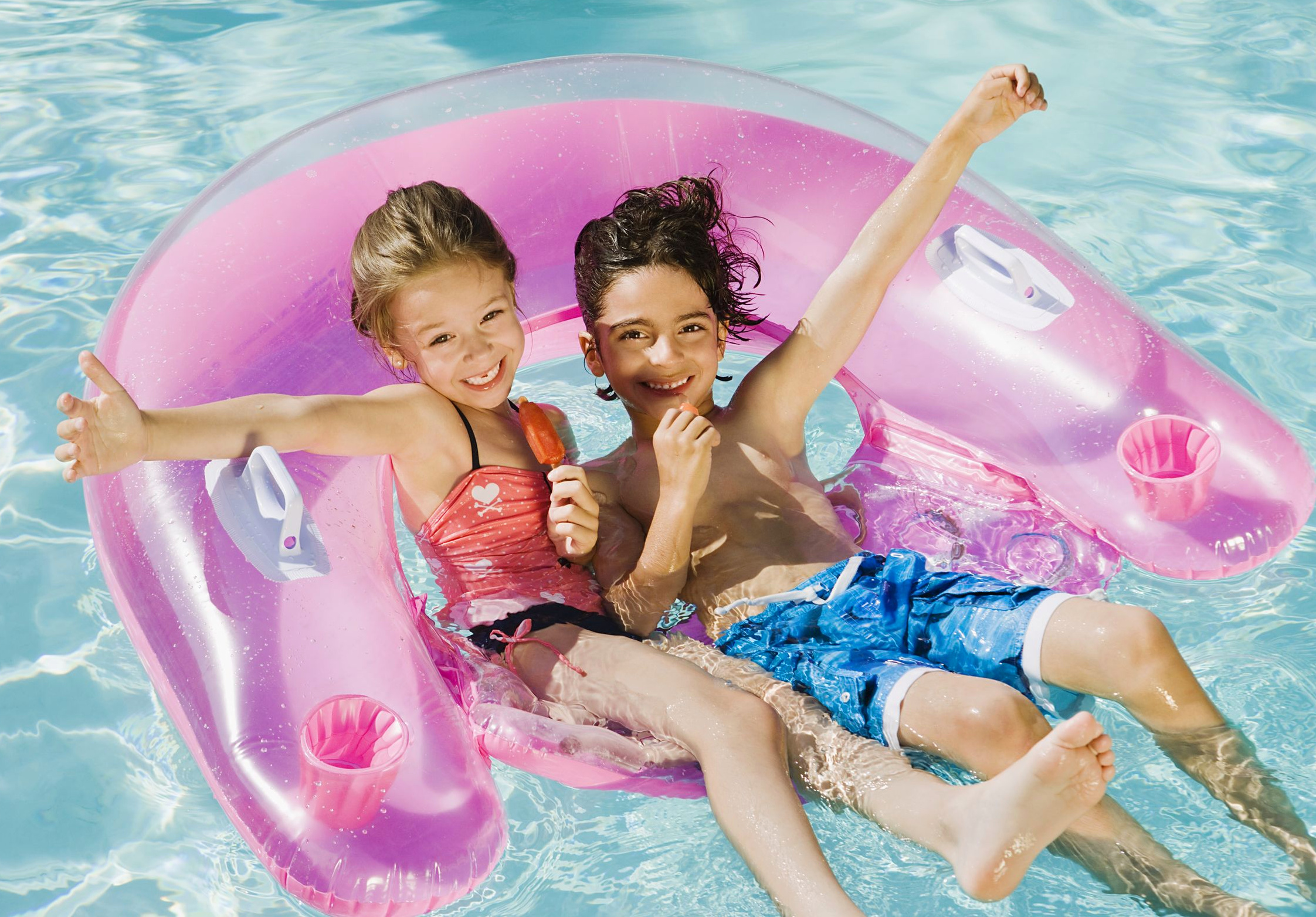 We have lots of action at our pool with kids and adults.
Because they are inexpensive you can get a couple of them - at least 2. One for you and one for your friend.  As you can see there is room for some little ones as well. The float is really big which makes it great for a big person. The downside is the chair need to be inflated and then deflated for storing. 
These floating pool chairs were used a lot, so for us, one lasted a full summer season and the other one two summer seasons before it developed a leak. The bottom piece separated from the sides. But I have to say we really enjoyed them.

So if you want to stay cool, catch up with your friends and keep your hair dry give these floating pool chairs a try:
Spring Float

SwimWays makes a spring float chair called the SwimWays Spring Float Papasan. I like the feel of the mesh bottom rather than plastic.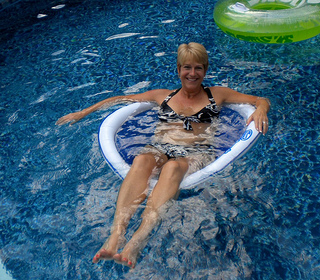 It's easy to get in and out of compared to a sticky plastic float. On a hot day it feels really good because you sit really low in the water. So if you want to keep cool this is a great chair float.
Not much to blow up - just a few blows and to inflate the edge. It is almost unsinkable as well since most of it is a mesh bottom. It is easy to store and doesn't take up much space.
We had a family over and the father was tossing his 5 year old son into the chair and it held up with lots of fun "abuse." Our two granddaughters like playing in it together.
Pool Chair Float

This pool chair float is made of fabric and is inflatable. It springs open meaning - it is collapsible and easy to carry or to pack in a suitcase for that exotic vacation to the Fuji Islands :)
It also includes two very important features - a beverage holder and a headrest.
If you enjoy floating and reading at the same time - this is a good float for you.
Kelsyus Inflatable Floating Chair
For those of us who enjoy relaxing in the pool, floating pool chairs are a must!
Return to Pool Fun for Everyone Home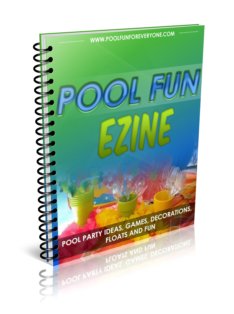 Looking for ideas to have fun with friends and family out by the pool? Get free tips on:
Pool Party Themes, Invitations, Games and Decorations
Outdoor Patio Umbrellas - Frame, Fabric and the Best Size
Swimming Pool Floats for Infants, Kids and Adults

Pool Party Food from Summer Appetizers to Cold Desserts
Outdoor Party Lights - Patio Umbrella Lights to Solar Torches


Sign up here:
© Copyright 2011 - 2023 www.PoolFunforEveryone.com
All rights reserved. This DMCA site is protected under U.S. and International copyright laws. Do Not Copy any Content or Images. No use is permitted without written permission.