Indoor Beach Party Ideas

Looking for some indoor beach party ideas? Twice we have had plans for an outdoor beach party and twice we've had to go indoors. But that doesn't mean the rain can put a damper on your fun. Let me show you what we did for our suppose to be outdoor pool parties that turned into fun indoor ones.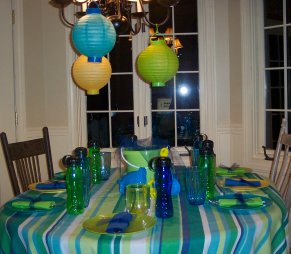 You probably are thinking the party went inside because of a stormy, rainy day or maybe the party was held in the middle of winter. Nope - it was in August, the sun was out, not a cloud in the air and the pool was warm. But it was record heat. Truly a "Hotlanta" day.
Beach Party Decorating

My daughter and I were hosting a beach party theme couples wedding shower.
The plan was to have everyone come in their swimsuits and to have the meal and the party outside.
But the extreme heat and the humidity of Atlanta just took the fun out of being outside - so we decided to move the party into air conditioning.
I used my outdoor umbrella tablecloths, plastic plates and glasses and set the tables as if they were outside.
Other indoor beach party ideas include hanging colorful lime green and aqua blue paper lanterns from the light fixtures and placing beach themed items in different places, starting at the front door.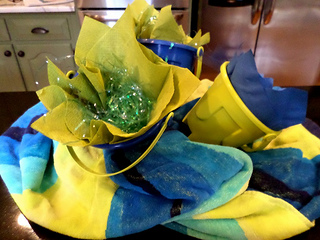 Food is served on the kitchen island.
Use a colorful beach towel and place brand new beach pails on the towel. I found mine at the Dollar Store and Target.
Line the pails with coordinating colored napkins and some sparkling shredded Easter grass.
Say "Beach Party's Here" at the Front Door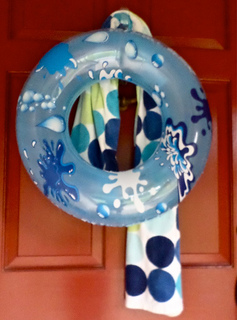 What was suppose to be hanging on the pool gate decorated the front door instead.
The front door is a great place to set the atmosphere and tone for a fun time.
Hang in inflatable swim ring on a wreath hanger along with a striped beach towel.
Place a large beach ball with a pail and shovel next to the door.
Tie an inflated beach ball balloon onto the mailbox if you want to help identify the party house for first time visitors.
Beach Party Invites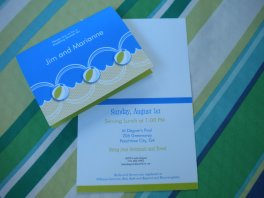 We set the theme for our beach bridal shower by sending out these cute beach ball invitations.
The invitations included important information, such as bring your swimsuit and towel.
This design is no longer available but you can find something similar at Amazon here:
AW1004 Beach Ball Invites
Beach Party Decorating

Indoor beach party ideas can include simple props like beach towels, hanging paper lanterns, sand buckets, beach balls and swim toys.
I hung this lime green swim ring on the mirror and topped the dining room sideboard with a beach towel, beach ball and some swim toys.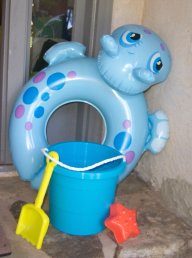 Hang colorful paper lanterns from the chandelier and use plastic plates and glasses for the dinnerware.

Start your beach party decorating right at the front door.
Place a blow up beach ring or a large sand bucket and shovel at the entrance to the house.
If you have a beach chair set that out with a bright colored striped beach towel draped over it.
Set out a mattress float so that it is upright or if you have a beach umbrella place it by the front door.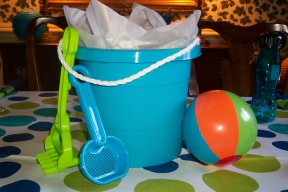 If it isn't windy outside decorate the front entry with a large beach ball or several small beach balls.
Use a large sand bucket from your local dollar store and place a plant or a bouquet of flowers in the middle.
Scatter sea shells around the bucket.
Any indoor beach party can be just as fun as an outdoor one with some planning including fun activities, decorations and good food.

Beach Themed Gifts

To go with the theme of the party we of course had to come up with a beach bridal shower gift.
The wedding couple received this lime green monogrammed beach bag from Lillian Vernon and an oversized beach towel for two.
Two easy to carry water bottles in lime green and aqua blue completed the gift.
Instead of wrapping the gift, we placed a couple of bright colored flowers in the bag.
Even the gift card had a beach ball on it.
Beach Party Favors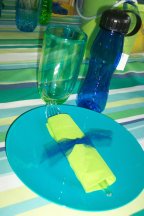 The take home favors for everyone was an aqua blue or lime green water bottles .
Names were written on an attached tag so the water bottles also served  as name place cards at the table.
The silverware is wrapped in lime green paper napkins tied up with a strip of deep blue netting.
I found some great plastic water goblets at the end of the season at Williams Sonoma and used them in the dining room and used thermal insulated plastic glasses for the kitchen table.
The assorted colored plastic plates came from Target - they only cost $2 for 4 plates.
They are strong, study and dishwasher safe.
Beach Party Icebreaker and Gift Bags

Every summer I host a neighborhood girls' night out. It gives everyone a chance to meet new neighbors and to get and stay connected as a neighborhood.
Ice breakers are a great way to help new people feel welcome and to help those who are more shy to feel part of a group.
For our beach themed party, each guest was given a flip flop foam sticker. There were 3 different designs.
Guests were to find someone who had their same design and share a story about their favorite beach vacation.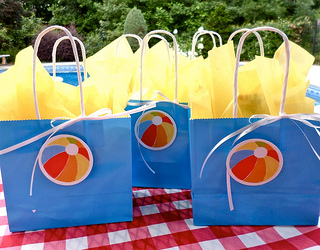 Rather than hand out party bags to everyone as they leave give them out during the party - make it more interactive and fun.
Give a party bag to each person who fits the description.
We came up with different questions to help us get to know each other as neighbors such as ....
Who has lived in the neighborhood the longest
Which neighbor moved in most recently
Which neighbor moved from the farthest place
Which neighbor went on a beach vacation and saw a shark
Who built a sand castle on this year's beach vacation
Who traveled the farthest to get to their beach vacation
Who swam in the ocean this year?
Who saw a crab?
Who has seen Annette Funicello in one of her Beach Party Movies
Who has watched the Disney Teen Beach Movie?
Who has gone to a Beach Boys concert?
Who has owned a Beach Boys album?
Everyone loved the thoughtful but practical gift of paper coasters.
I found them at Target for less than $3 a piece. Party tags are made from beach balls that came from invitations found at Birthday in A Box
Bright blue party bags become even more colorful with canary yellow tissue paper and some ribbon.
With these indoor beach party ideas you can enjoy your guests no matter what the weather.

Go from Indoor Beach Party Ideas to Beach Party Ideas

Go from Indoor Beach Party Ideas to Pool Fun Home Page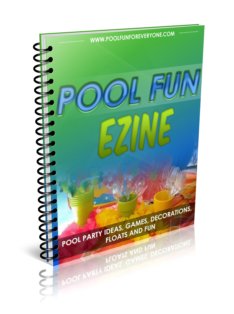 Looking for ideas to have fun with friends and family out by the pool? Get free tips on:
Pool Party Themes, Invitations, Games and Decorations
Outdoor Patio Umbrellas - Frame, Fabric and the Best Size
Swimming Pool Floats for Infants, Kids and Adults

Pool Party Food from Summer Appetizers to Cold Desserts
Outdoor Party Lights - Patio Umbrella Lights to Solar Torches


Sign up here:
© Copyright 2011 - 2020 www.PoolFunforEveryone.com
All rights reserved. This DMCA site is protected under U.S. and International copyright laws. Do Not Copy any Content or Images. No use is permitted without written permission.