Jungle Party Supplies

Jungle party supplies are more than just paper plates and matching napkins. In fact I like to spend my party money on the things kids think are fun - from the decorations to games to take home party favors.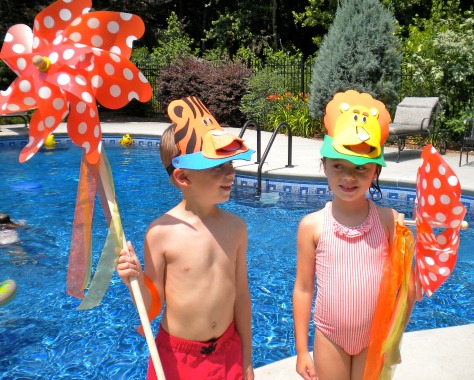 Safari Theme

Kids from ages 2-7 wore these colorful foam jungle animal visors at our jungle pool party. We used them to decorate the tables, for pool party games and then as take home party favors. Very durable and sturdy it doesn't matter if the foam visors get wet.
The kids loved wearing them and were so excited to take them home. Find them at Amazon here:
12 Foam Jungle Animal Sun Visors
Plates and Paper Goods

Come up with
party theme colors - like dark brown and lime green and repeat the colors in your invites, paper goods and party bags.
You don't need fancy jungle printed napkins and plates - simply use solid lime green or brown plates and napkins.
But if you do like your plates to carry the party theme, then these plates from Amazon are just the right ones:
Amscan Jungle Animals 7" Plates - 8 ct
Inflatable Zebras

This inflatable zebra will be the hit of the party.
I love large things to make a large impact in a large area like a swimming pool. This guy is easy to inflate with an electric pump.

At 32" high and only $12 you may want more than one. 
Use him for photo ops and then let him get wet and join the kids in the pool.

Inflatable Zebra, 32"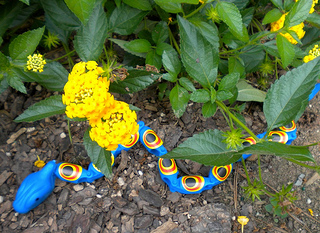 Hide inexpensive snakes among the shrubs around the perimeter of the swimming pool. Purchase enough so that there is at least one snake per guest.
We bought these wiggle snakes and used them on the party tables as well as hiding them in the bushes.
Tell the kids they are going on a snake hunt and that they each get to keep 1, 2, or more snakes.
The kids loved playing with them in the pool. You can purchase 3 dozen of them at Amazon for around $10 with free shipping if you are an Amazon
Assorted Color Wiggle Snakes (3 dz)
Animal Swim Rings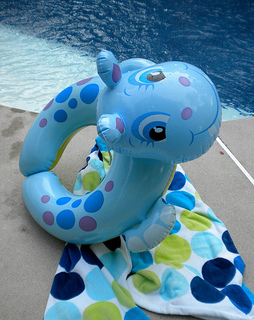 Depending of course on the age of the swimmers, buy two jungle themed swim rings like this hippo.  Use them for games or for party props. I've seen these split swim rings come as hippos, monkeys, and giraffes.

Divide the kids into two teams.
One at a time a team member swims the width of the pool and back wearing the hippo ring and gives it to the next team member.
The team that finishes first wins.
Find them inexpensively at your local stores in the summer, but if not you can get the monkey on at Amazon here:

Intex Split Ring Monkey Pool Float
Jungle Birthday Cake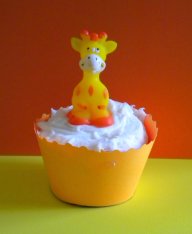 Is he not the cutest little giraffe?

Top the cupcake with a cute 24 Safari Zoo Theme Finger Puppets
I like using cupcake wrappers for extra punch of color - most cupcake liners look faded after the cupcakes are baked.  So just use cheap cupcake liners and if you don't have time to make your own cupcake wrappers you can buy them at Amazon here:
Jungle Party Bags

I found very inexpensive animal print party bags at Amazon. This set of 12 goody bags is less than $5 at Amazon.
  They are about the size of a lunch bag.

12 Safari Animal Print Goody Bags
Jungle party favors can be found at - my favorite store, the Dollar Store or in the dollar section at Target. It's also easy to find jungle party theme favors on line at Oriental Trading.
These jungle animal beach balls can be used as party decorations and then let the kids pick one out to take home.
Not all gifts have to fit into a party bag :)
12-pack Inflatable Jungle Animal Shaped Beach Balls
Snakes, finger puppets, foam visors and animal crackers were all a big hit at our kids pool party this summer.
Provide animal print sunglasses when kids arrive for a great photo op or put them in their party bags to take home.
At just .50 a piece they are an inexpensive party favor.

Animal Print Sunglasses Assortment - Set of 12
Jungle Party Food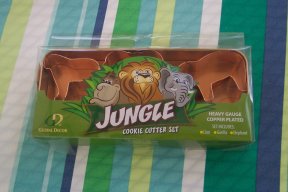 These jungle cookie cutters can be used to make your own jungle themed cookies or for sandwich cutouts.
I am not one who likes to roll out cookies, but I did use them to cut out sandwiches shaped like lions and elephants.
Five Piece Safari Animal Cookie Cutter Set
As you can see your themed party supplies are lots more than plates and cups.  Kids especially love the inflatables, the tattoos, and plastic safari animals that can be played with in the pool.

Go from Jungle Party Supplies to Jungle Party Ideas

Return to Pool Fun for Everyone Home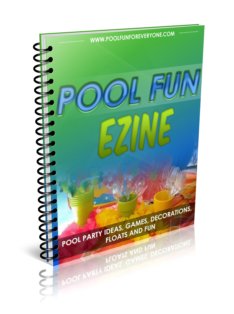 Looking for ideas to have fun with friends and family out by the pool? Get free tips on:
Pool Party Themes, Invitations, Games and Decorations
Outdoor Patio Umbrellas - Frame, Fabric and the Best Size
Swimming Pool Floats for Infants, Kids and Adults

Pool Party Food from Summer Appetizers to Cold Desserts
Outdoor Party Lights - Patio Umbrella Lights to Solar Torches


Sign up here:
© Copyright 2011 - 2020 www.PoolFunforEveryone.com
All rights reserved. This DMCA site is protected under U.S. and International copyright laws. Do Not Copy any Content or Images. No use is permitted without written permission.