Little Mermaid Party Ideas

What could be a more perfect pool party theme than a Little Mermaid Party?! It doesn't need to be anyone's birthday - just a fun excuse to get a bunch of little mermaids together for a fun afternoon at the pool.
We host an annual Under the Sea Party/Mermaid party every summer - adding new games and decorations based on the ages of the kids and their ability to swim.
Little Mermaid Party Supplies

Little Mermaid party supplies are in abundance - you can find them at local stores like Target, Hobby Lobby, or party supply stores.
You can buy Little Mermaid plates, cups, napkins and tablecloths along with party supply bags and banners. If you want to make your shopping really convenient you can go on line to Amazon.  They sell an entire party package that includes all your paper good.

If you enjoy being creative you can make and create some of your own party supplies and even have fun doing it with your kids.
Disney Ariel Little Mermaid Birthday Party Tableware Kit For 16
Little Mermaid Party Invitations

Here are some creative wording ideas for this pool party theme:
1. Celebrate fathoms below with the Little Mermaid and Anna (or name of celebrant) for her 4th birthday
2. Join the Daughters of Triton for Anna's birthday celebration
3. Search for treasures and trinkets at Anna's Under the Sea Party
4. Under the sea, Under the sea Darlin' it's better down where it's wetter Take it from me.... that this birthday celebration will be fathom's of fun.
Be sure to include instructions asking the guests to wear their swimsuits and to bring a towel.
It's easy to find Little Mermaid invitations on line. Amazon offers this 8 count package (pictured above)
Little Mermaid Party Invitations & Thank You Cards - 8 Count Each
Mermaid Fins & Swimsuit

For the birthday girl, provide her with her one mermaid fin that can be worn in and out of the water. 
They come in sizes that fit young girls from around 3 -10 years old.  The fabric has a 3D appearance of scales and is offered in a variety of colors - blue-green, blue, magenta and pink.
It is made of swimsuit fabric so it can be worn in and out of the swimming pool.
Surprise your birthday girl with a gift she will always remember.
Swimwear with Monofin, Swimmable Mermaid Tail Swimsuit
Mermaid Party Decorations

I use Amazon for lots of my party supplies - this 6' Little Mermaid scene makes a perfect backdrop for your party and photo ops with the kids.
All plastic so it can get wet - tape it to a central area on your pool fence.

Little Mermaid party decorations can be store bought or home-made.
For our Little Mermaid Party we decorated the patio umbrella with blue netting, draping it around the patio ribs, wrapping it around the umbrella pole and then piling it around the bottom of the pole.
Pool Gate
Simply buy a Tropical Fish Inflatable Swim Ring and tie it on the gate to greet all of your guests. I use clear plastic fish wire or string.

Outdoor Mister
The kids were all instructed to come in their swimsuits because as soon as they stepped through the entrance they were greeted with a cooling mist from our outdoor mister.
The kids were all instructed to come in their swimsuits because as soon as they stepped through the entrance they were greeted with a cooling mist from our outdoor mister.

Orbit Cobra Outdoor Mister - Set of 2
Kids Pool Party Ideas - Bubble Machine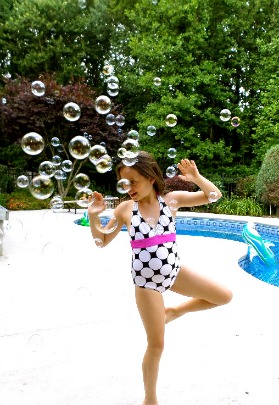 There is nothing quite like floating bubbles for a Little Mermaid pool party. Place the bubble machine at the entrance to the pool when the kids first arrive and then move it to the pool area. 

After making several different purchases I finally found one that worked well and we used it all summer. Creative Motion Bubble Machine would work for about an hour or so and then it needs a rest - but will start again.

bubble machine Be sure to keep it filled with bubble juice - the one I used and would recommend is Froggys Fog Pro Bubble Juice.  Get the gallon size because you go through it pretty fast.

Inflatable Mermaid for Decorations and Games

Inflatables are great for pool parties - inexpensive, can be used for decorations and then used in the pool for some pool fun.
These mermaids are nice and big 36" tall and are around $7.00 for two of them.
Set one out by the pool gate or use them for photo ops with the birthday guests.
Then let the kids have fun with them in the pool.
Check them out at Amazon here:

2 Large 36 Inch Inflatable Mermaid Toy Blowup Doll
Little Mermaid Party Balloons
Use balloons at the end of the driveway or by the party table where everyone can enjoy them through out the day. 

Little Mermaid Birthday Bouquet of Balloons
Inflatable Sea Horses and Octopus
Inflatable sea creatures can be used for decorations in and out of the pool. Easy to blow up - set them by the pool gate or by the party table.
Use them for pool party games as well.

Set of 3 Inflatable SEA CREATURES
Little Mermaid Party Decorations for Tables
The shimmering blue netting that is wrapped around the pole, is then pooled around the bottom of the pole.
Set out colorful beaded necklaces and plastic crabs, turtles, fish or seashells.
These plastic sea creatures are actually dive toys that I found at a store. 
So after the guests are done eating you can use them for diving games. 

Little Mermaid Party Decorations Craft
Kids can help with the decorating by making these paper plate tropical fish.  Simply paint two paper plates, cut out the mouth, and staple the two plates together.
Cut blue tissue paper into strips of 2" x 5" and gather several strips together and staple them into the other end of the plate.
I had some shimmery blue Easter grass that I stapled into the tail as well.
You can use stick on eyes, rhinestones or buttons as eyes. I found these blue rhinestone stickers in the dollar section at Target.
Hang the fish from the patio umbrella, on the pool gate or put them on blue painted dowels to set out along the perimeter of the pool.
Little Mermaid Party Decorations for the Pool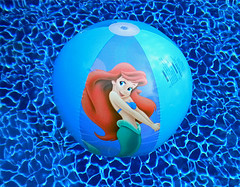 Have an assortment of beach balls floating in the pool - one's with Areile on it mixed with solid color ones.  Sometimes you can find them at your local dollar store, if not Amazon offers them here:
Ariel Beach Ball
Mermaid Games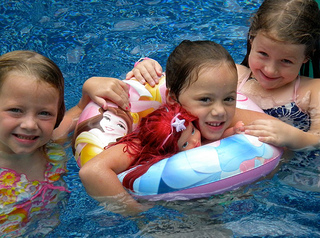 Take your little mermaids on a trinket dive for colored necklaces, bracelets, and rings.
Dive for seahorses or rescue Ariel from surrounding "sharks."
Play "hot potato" type game using a Little Mermaid beach ball playing the  song, Poor Unfortunate Souls.

To find out how to play these mermaid games click here:
Music provides a festive, fun feel to the theme of a party.
So of course, the Disney Little Mermaid album, played on your portable iPod speaker lets your mermaids know that they are truly Under the Sea.
You can have the music played just as background music or incorporate a particular song for a game.
Our little mermaids danced to Under the Sea as they paraded around the pool for the Mermaid Parade holding painted tropical fish decorated with ribbon and crepe paper.
Little Mermaid Party Cake

You don't need to be a fancy cake decorator to serve these fun and delightful cupcakes.
Make or buy your favorite cupcakes.  Use white frosting with just a drop of blue food coloring and sprinkle with blue sugar.
Top the cupcakes with Ariel figurines.  Cupcakes are easy to make and serve. Kids can eat them with their fingers and then play with their own truly Little Mermaid.
Buy enough cupcake toppers for each of the guests so that each person can take one home. These figurines are no longer available - but you can get 12 Disney Princess cupcake rings at Amazon here:

Disney Princess Gemstone Cupcake Rings (12 Count)
Go from Little Mermaid Party to Kids Pool Party Ideas
Return to Pool Fun for Everyone Home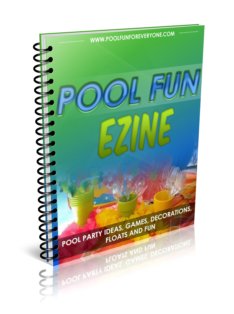 Looking for ideas to have fun with friends and family out by the pool? Get free tips on:
Pool Party Themes, Invitations, Games and Decorations
Outdoor Patio Umbrellas - Frame, Fabric and the Best Size
Swimming Pool Floats for Infants, Kids and Adults

Pool Party Food from Summer Appetizers to Cold Desserts
Outdoor Party Lights - Patio Umbrella Lights to Solar Torches


Sign up here:
© Copyright 2011 - 2020 www.PoolFunforEveryone.com
All rights reserved. This DMCA site is protected under U.S. and International copyright laws. Do Not Copy any Content or Images. No use is permitted without written permission.