Outdoor Chair Cushions

New outdoor chair cushions can turn your plain outdoor dining set or patio furniture into something colorful, comfortable and inviting. From fresh blue and white stripes to solid colors of light blue or lime green, a fresh set of patio cushions can transform a dated outdoor patio set into a one that has a fresh and new look.
Outdoor Cushion Fabric
The color, design, and quality of the fabric are just as important as choosing the right size. The secret to outdoor cushion fabric is it to get fabric that is UV resistant and repels moisture, stains and mold.
Sunbrella outdoor fabric is the most durable thanks to applying dye all the way through the fabric - not just on the surface.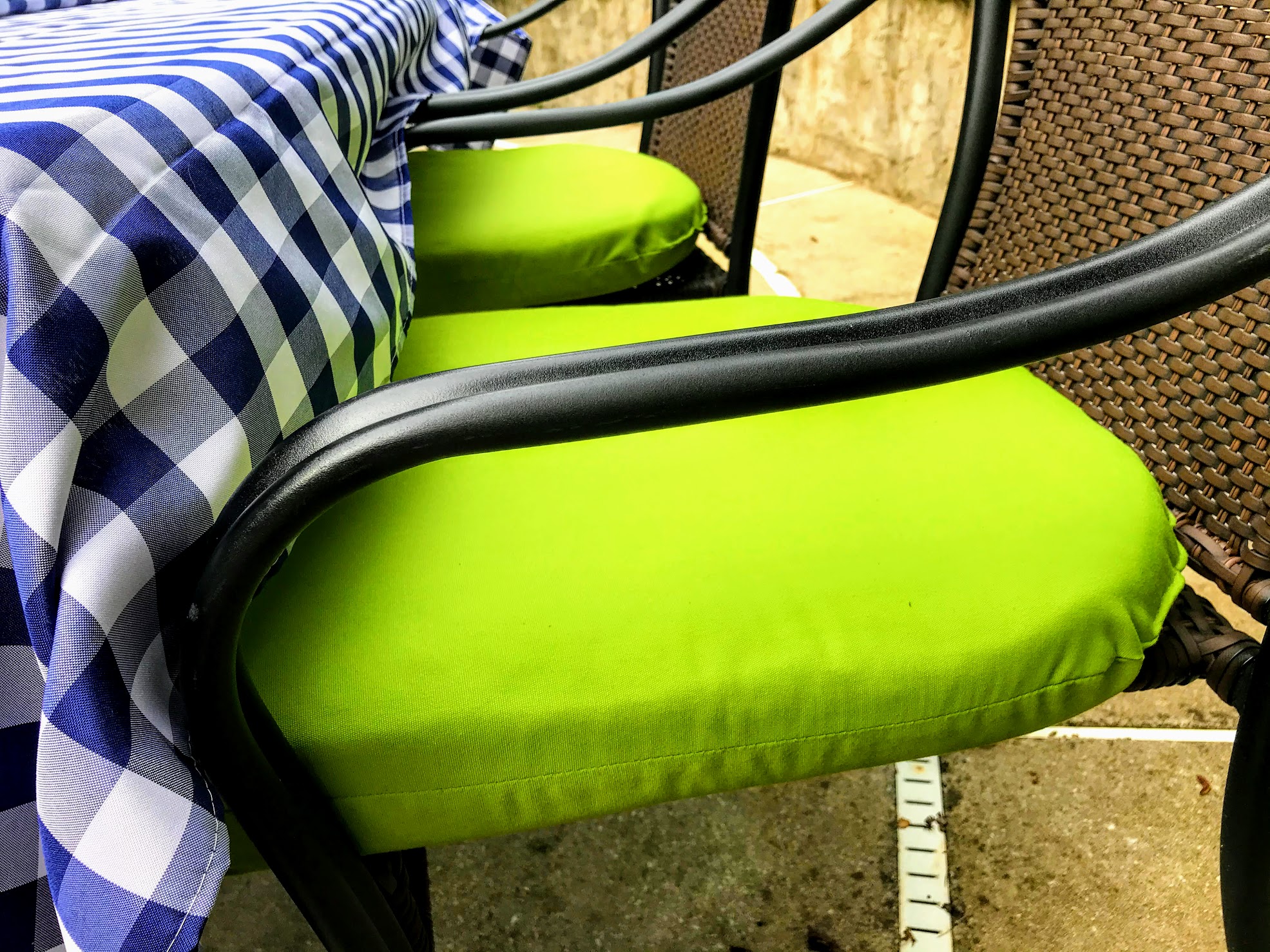 If you'd like to keep your chair cushions for several years without them fading or getting stained and moldy, spend the extra money on Sunbrella chair cushions.
I like to leave my cushions out all summer. They are exposed to lots of sun and are left out in the rain, yet they keep their vibrant color and don't get lots of spots or stains thanks to stain and mildew resistant fabric.  These green Sunbrella patio cushions are 8 years old and have kept their vibrant green color.

We leave them out all summer and they still look like new. These outdoor cushions come in a variety of colors and patterns, but what most people like about these outdoor chair cushions is that they are ....
Fade Resistant
These cushions are fade-resistant because the color is permanently sealed into the fibers. 
Stain Resistant
The fabric is protected with a soil and stain resistant finish for easy cleaning. Water or spills sit like bubbles on the top of the fabric.  This outdoor cushion fabric is spill resistant. Meaning that any spills or rain water will bead up and sit on top of the fabric. Simply wipe clean with a damp cloth.

Mildew Resistant

Keep your cushions outside and even if it rains frequently they will not develop mold.
Dry Quickly
We leave our cushions out all summer. Lately we have had afternoon showers come in almost every day - the cushions get wet but they do indeed dry quickly.
Fabric Breathes
Unlike the Sunbrella awning or marine fabric, the fabric they use for outside chair cushions is porous, allowing it to breathe so that you are comfortable even in hot and humid weather.
Soft, not Stiff
Of course the fabric that is used for Sunbrella chair cushions has a softer feel than the stiff marine fabrics.  When you are shopping for your patio and pool furniture, check to see if the cushions come with the purchase, and if they are Sunbrella cushions - well, then you may just have a found yourself a good deal.
---
Some links in the following sections are eBay or Amazon affiliate links, which means that if you purchase a product through them I receive a small commission. There is no extra cost to you. Find more details on this page.
---
Sunbrella Chair Cushions cost more, but their colors are vibrant and stay that way. Sunbrella chair cushions are durable, comfortable, and attractive.
Amazon also carries Sunbrella outdoor chair cushions. So check them out. Shopping on-line - especially if you need six matching replacement cushions - can save you a lot of time and running around.
Sunbrella Outdoor Chair Cushions
Outdoor Chair Cushion Styles and Edges
1. Guide to Edges

   Boxed Edge with or without cording
A boxed edge has a more finished look in my opinion. They are thicker as well and the seam is corded on the top and bottom for a more custom look.

   Knife Edge
A knife edge has a seam right in the middle of the side portion and are usually not as thick as other styles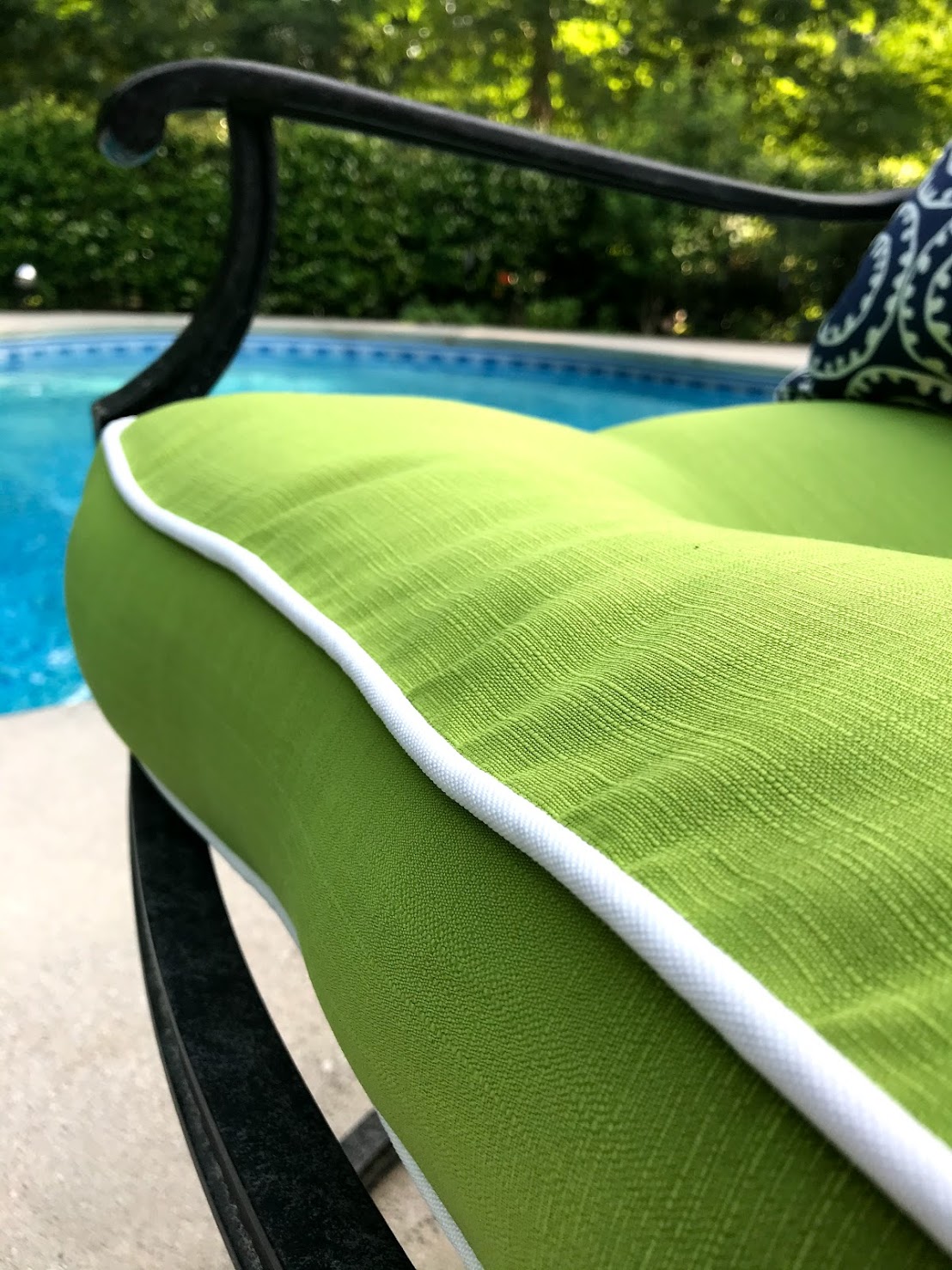 The picture above is a boxed edge with piping.

2. Reversible so that fabric color and pattern are on both sides which means you can turn your cushion over if one side is stained or faded.
3. Shape of the outdoor chair cushions
Square shaped with a bullnose is one of the most common types of outdoor chair cushions used for outdoor dining chairs.  The trapezoid shape cushion is slightly wider in the front.
   Square
   U Shape
   Trapezoid
4.  Tie or no tie outdoor chair cushions
A no tie option makes it much easier to bring your cushions in or to store them when not in use.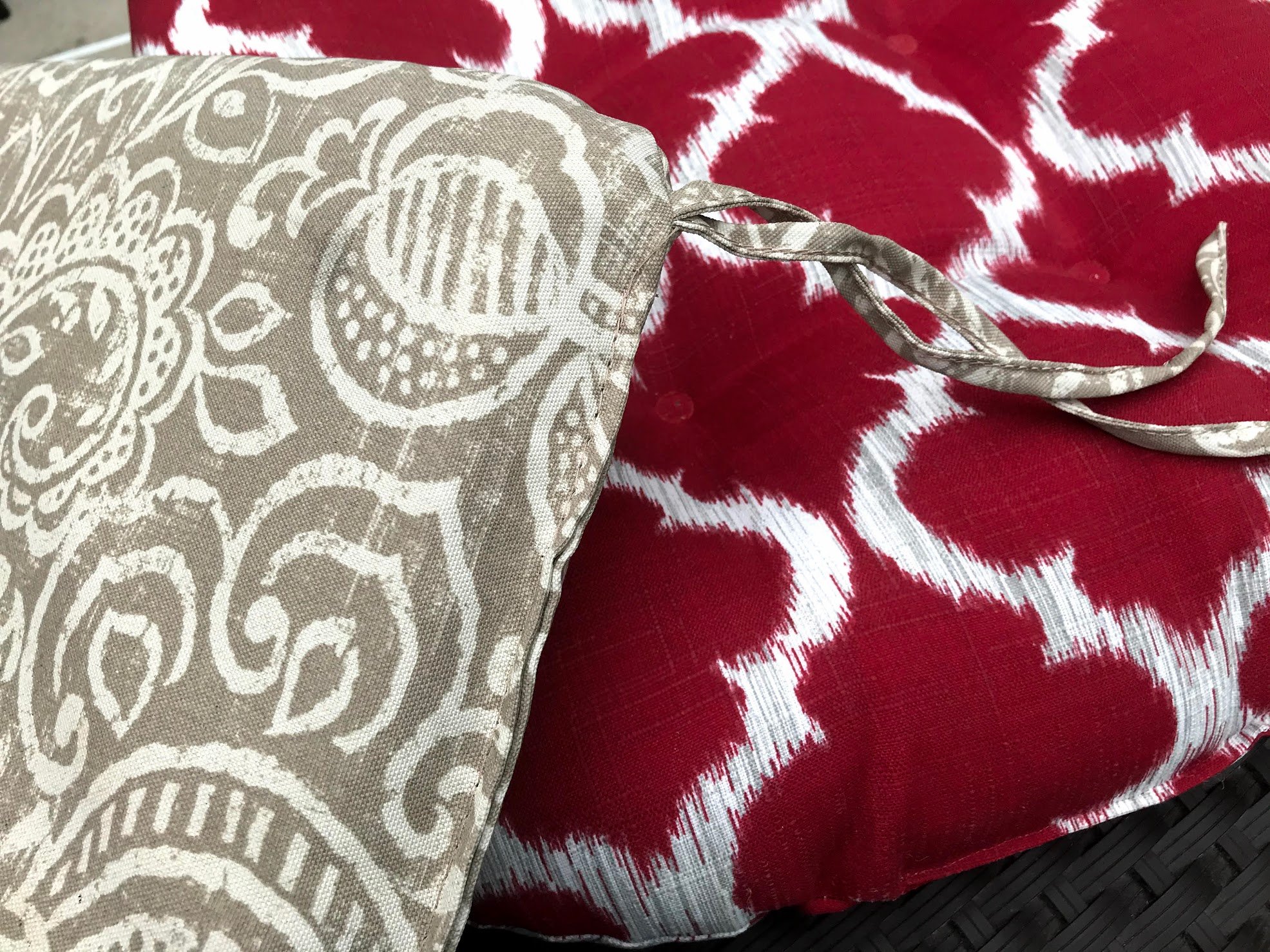 4.  Thickness of the outdoor chair cushions

Thick outdoor chair cushions provide not only a decorative touch and color to the outside pool area, they provide some "cushion" and comfort as well.
The boxed edge is my favorite - 4" thick rather than 2"  which translates into more comfort.  It also has cording or piping around the top and the bottom edge which gives it a more finished look.
4. Tufted or Plain
I bought tufted outdoor chair cushions to replace my existing ones. They were just the right size and color that I wanted. The tufted buttons give it a more custom look.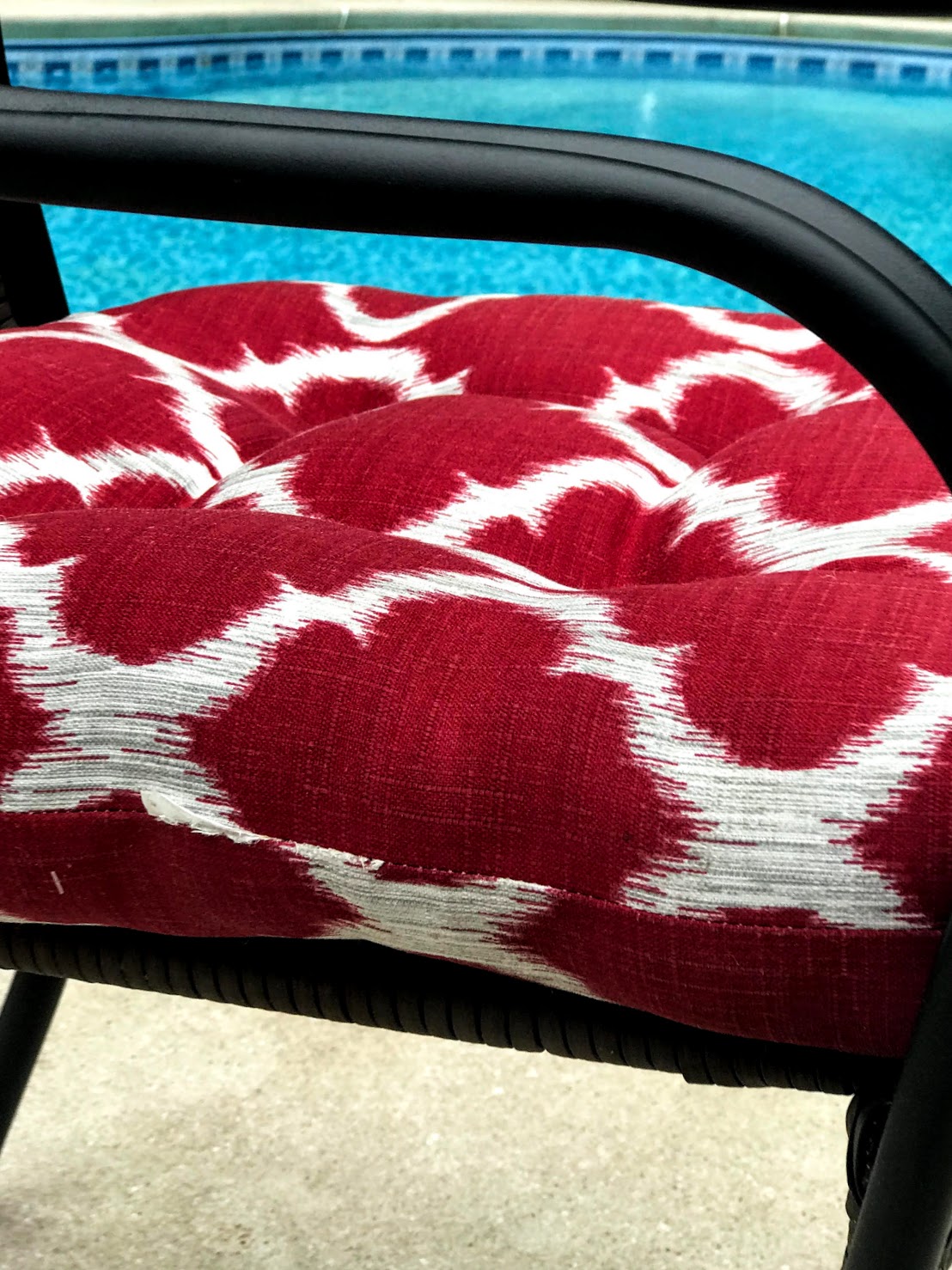 4. Sets that include a cushion for the seat and seat back
These cushions can be purchased in stores like Target, Home Depot or Lowe's. However, if you are going to buy them in a store, you need to buy them early in the summer season before the selection is gone. If you wait too long you may find that there are not enough of the same color/design cushions for your outdoor dining chairs. 
Deck Storage Boxes for Outdoor Chair Cushions
The best and most convenient way to store your outdoor chair cushions is with a weather proof deck box.
Once summer hits our outdoor furniture cushions are often left outside. But there are times when we do want to protect them from days of rain, heavy pollen or sun damage. Bringing them into the house or garage takes too much effort running back and forth and even then we don't have a good spot to store them.
That's why I like this convenient deck storage box by Keter. This time around we looked for the largest deck storage box we could find and it was this 150 gallon one.  It is super spacious with tons of storage room.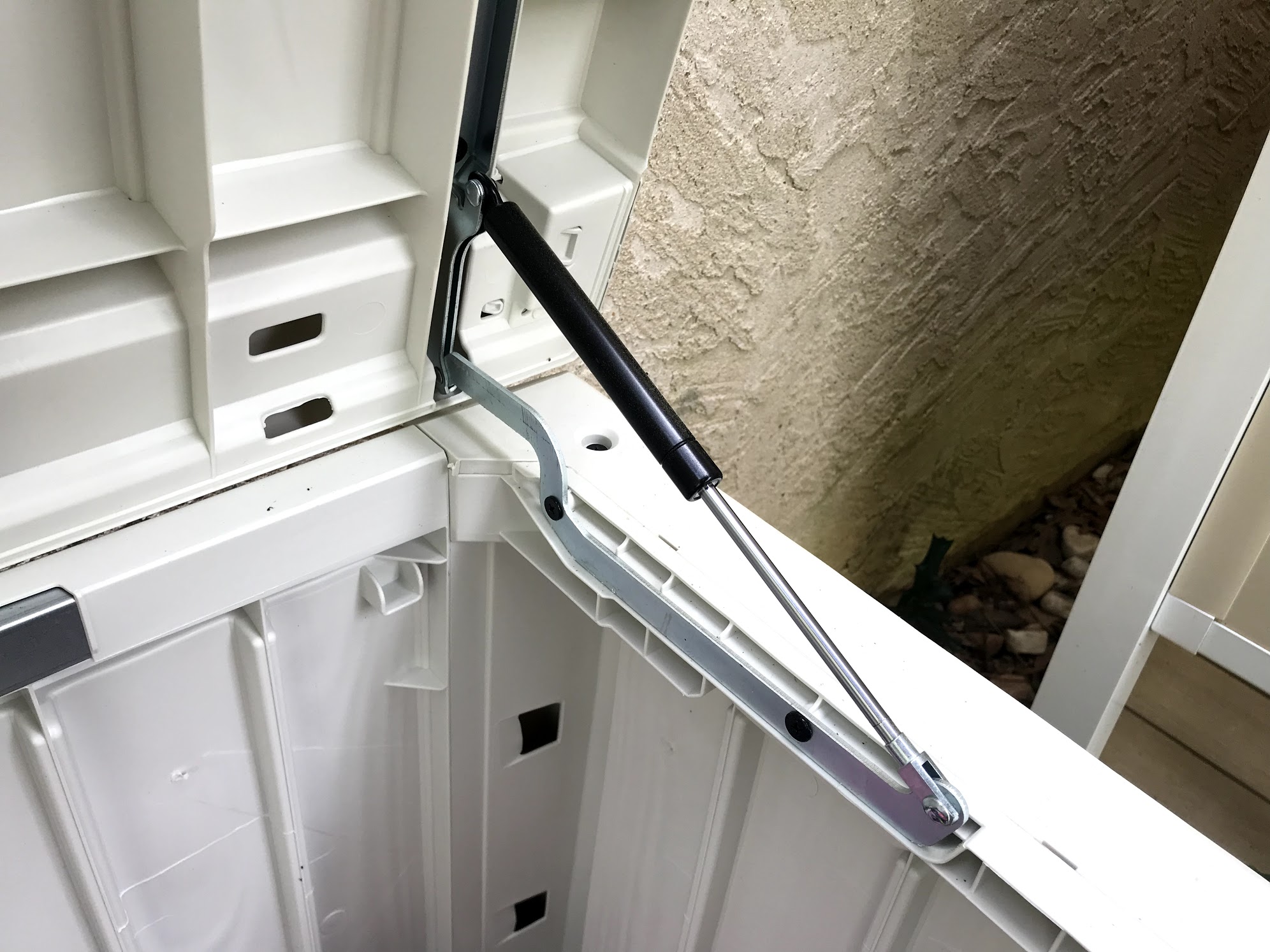 The opening mechanism makes for a smooth open and close - which means the top won't come slamming down on your head. 
You will find it super convenient to store your outdoor cushions and by keeping your cushions protected when you are not using them, they will last longer.
Keter Westwood Plastic Deck Storage Box 150 Gal
Some people like to store their cushions when not in use, when a storm is coming up, or leaving for vacation.  Yet others will store them just for the winter - either way you will need a deck box to protect your investment.  
No more carrying your cushions back and forth to the garage, shed, or house when you can conveniently stash them in your poolside storage box.  Our favorite is this 99 gallon deck storage box by Suncast. It keeps your cushions dry and clean during all weather conditions. 
99 Gallon Suncast Deck Storage Boxes - Mocha or White
New bold colors can give your patio and pool area a new look and provide a fresh design to replace faded or worn looking cushions. Turn your backyard into an oasis of color and comfort with new updated outdoor chair cushions.
Go from Outdoor Chair Cushions to Swimming Pool Furniture

Return to Pool Fun for Everyone Home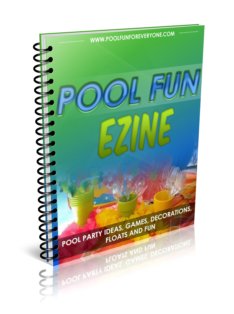 Looking for ideas to have fun with friends and family out by the pool? Get free tips on:
Pool Party Themes, Invitations, Games and Decorations
Outdoor Patio Umbrellas - Frame, Fabric and the Best Size
Swimming Pool Floats for Infants, Kids and Adults

Pool Party Food from Summer Appetizers to Cold Desserts
Outdoor Party Lights - Patio Umbrella Lights to Solar Torches


Sign up here:
© Copyright 2011 - 2023 www.PoolFunforEveryone.com
All rights reserved. This DMCA site is protected under U.S. and International copyright laws. Do Not Copy any Content or Images. No use is permitted without written permission.