Outdoor Patio Table Options

When choosing an outdoor patio table one needs to consider the size, the shape and the material it is made of.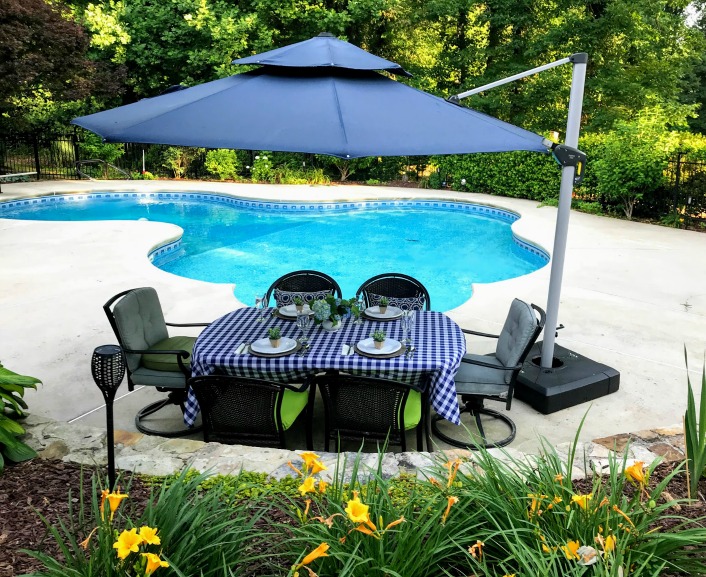 Here are some things to consider:
Style
The style of the table should fit in with the feel and style of your house and pool area - whether it is traditional, modern, simple, or classic.

Maintenance
Also take into consideration what kind of maintenance the outdoor tabletops will require. Glass table tops require much more care and maintenance than an open weave cast aluminum top.  Do you plan to keep the outdoor furniture outside year round or protected in the winter with an outdoor furniture cover?
Size
How will you use the outdoor dining table and typically how many will be seated at the table? Is it just for two of you or for a family of six? We started out with a round patio table that seated 4 people and have since added an oval patio table that now seats 6.
Shape
What shape will look best in the space - oval, round, rectangular or square?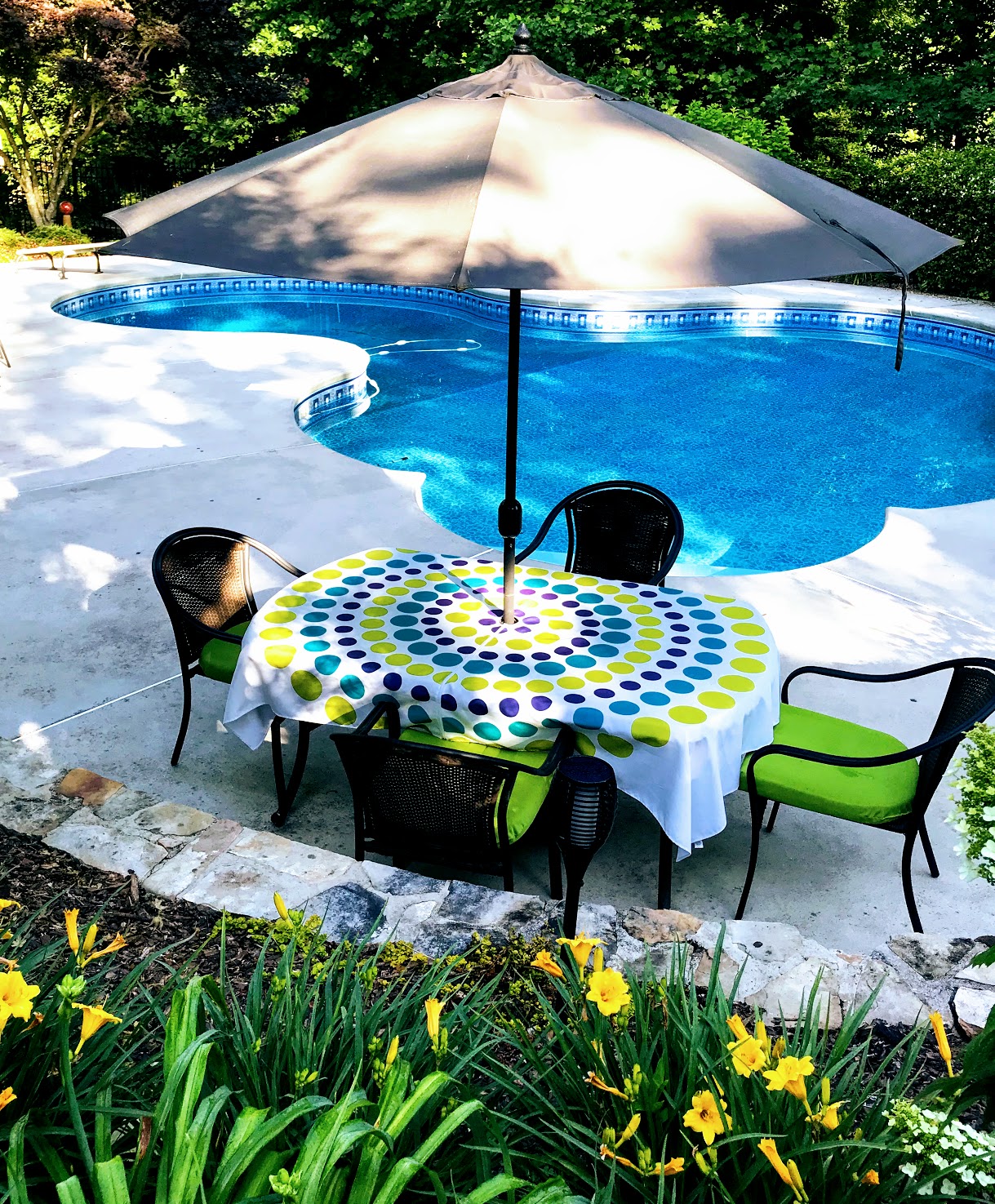 The advantage of a round or oval table over a square or rectangular patio table is that it is possible to seat more guests.
Just add more chairs and you can squeeze in an extra two people. No one wants to sit at the corner of a table.
---
Some links in the following sections are eBay or Amazon affiliate links, which means that if you purchase a product through them I receive a small commission. There is no extra cost to you. Find more details on this page.
---
Cast Aluminum Patio Table

An aluminum patio table is a durable choice for an outdoor patio table. It can come in many different styles and finishes.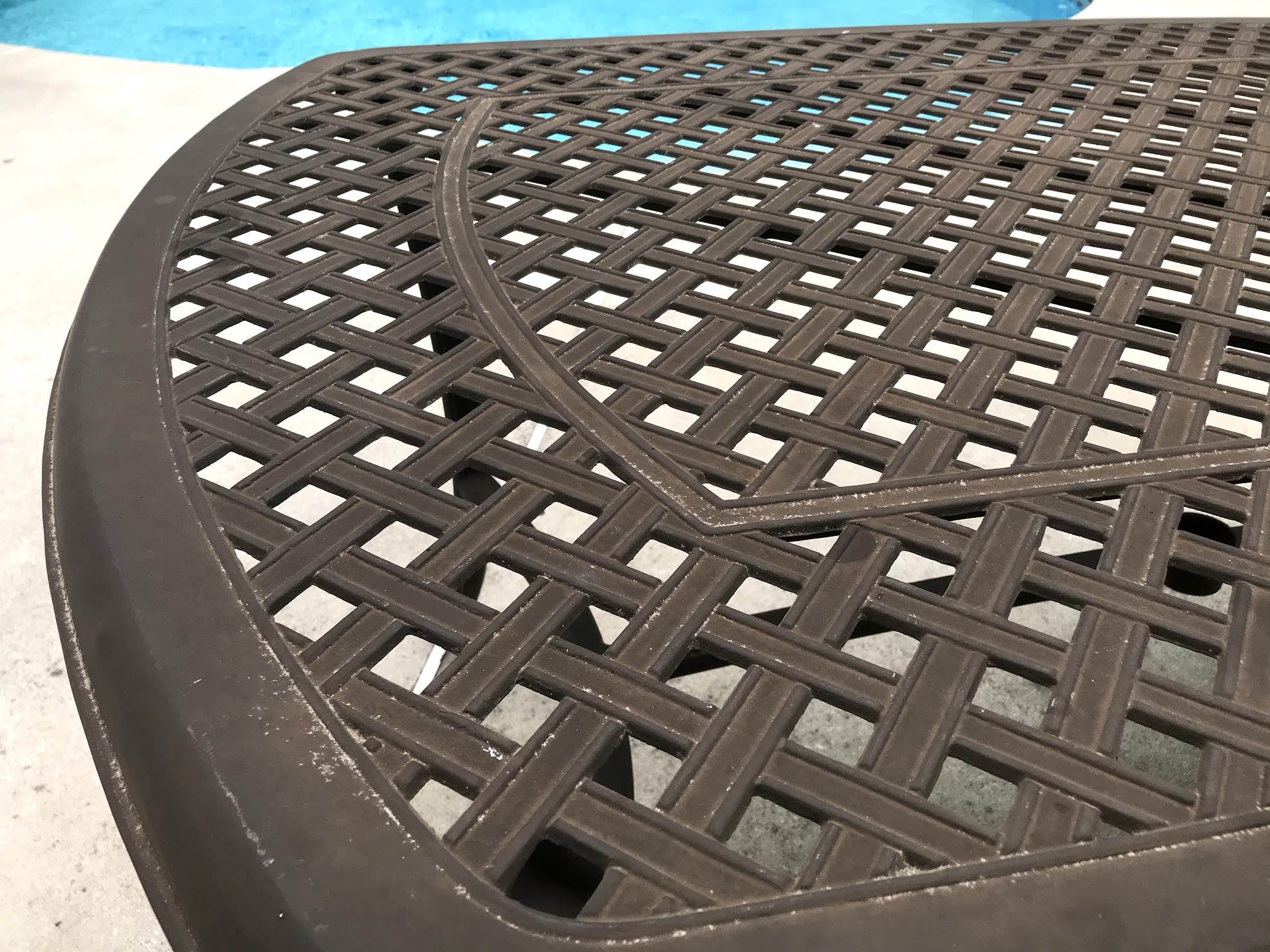 The question most people have is should they invest in a high end patio set or a less expensive one from, let's say from Amazon, Target or Home Depot. That was our dilemma this summer when we were looking for new outdoor furniture. After reading many reviews, I found that some people even after spending high end dollars, still experienced some rusting, paint fading or flaking on their furniture.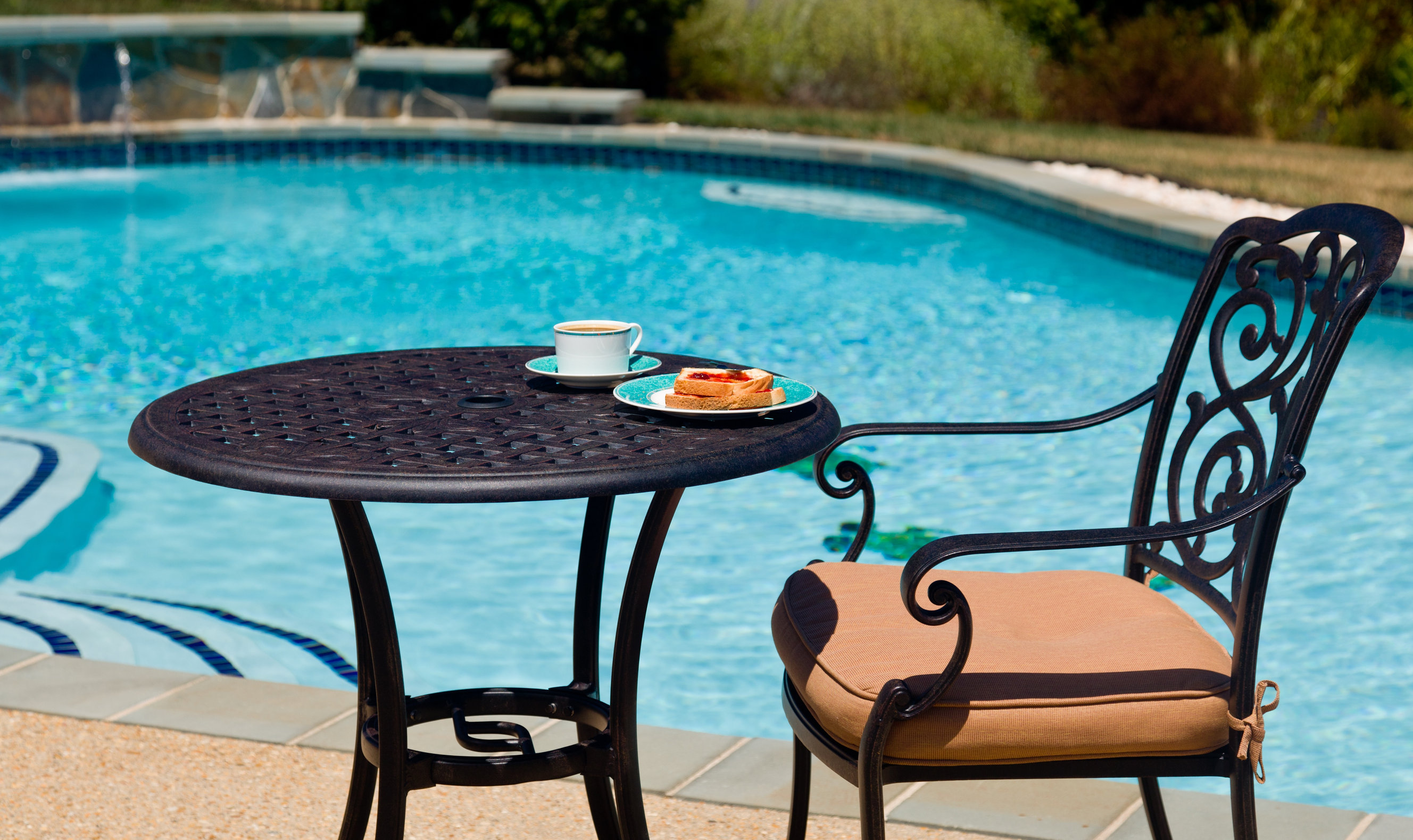 Others stated that after 5 years or so they wanted to change colors or styles and so they decided to go with lower priced outdoor dining sets.
We purchased a cast aluminum patio table from Target. It has a powder coated frame that stands up to rust and years of wear and weather. Cast aluminum patio tables will need to be assembled once you get them home.
The main difference between cast aluminum and cast iron, is that cast iron will rust after time, aluminum will not. This basket-weave design offers a timeless classic style. It is sturdy, heavy duty and easy to clean. Just clean it off with a hose or damp cloth.

These types of outdoor tables come in different finishes whereas wrought iron furniture is available only in black.
Ours is a traditional bronze finish.

Cast Aluminum Patio Tables and Sets
Glass Outdoor Patio Table
This 40" round glass patio table is made of tempered glass with a ripple finish so the glass always looks clean.  The powder coated steel frame comes in two finishes - gray and dark brown. A simple modern base provides an updated look and an umbrella hole in the middle of the table means you can use it as a patio umbrella table.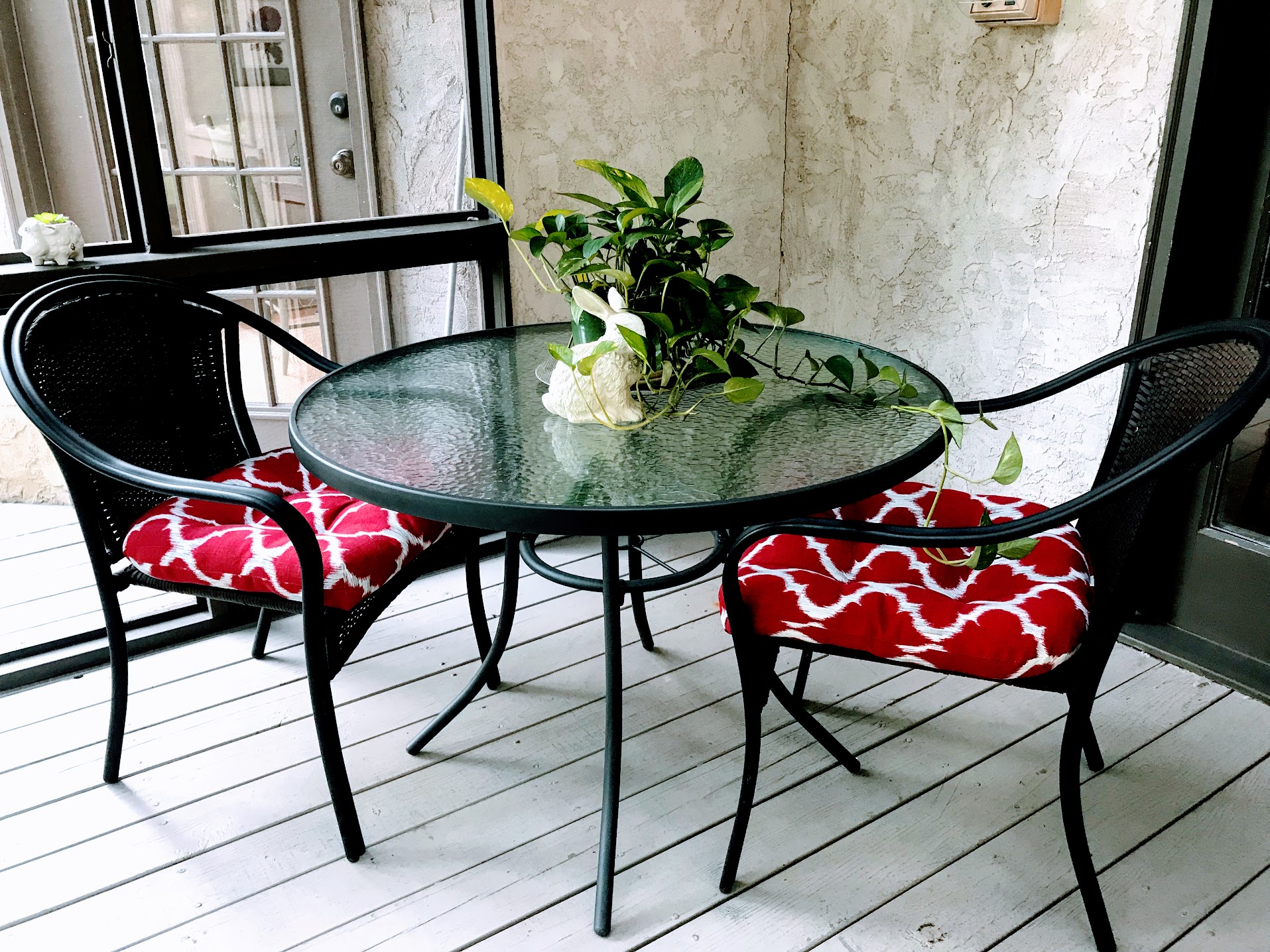 While this is a great option for our outdoor porch, glass should not be used as an outdoor patio table around a swimming pool.

Wrought Iron Patio Table

Our wrought iron patio table is almost 20 years old.  We like our set and keep it, instead of replacing it because it has a classic, timeless look and it always looks "clean." with no need to wipe it off.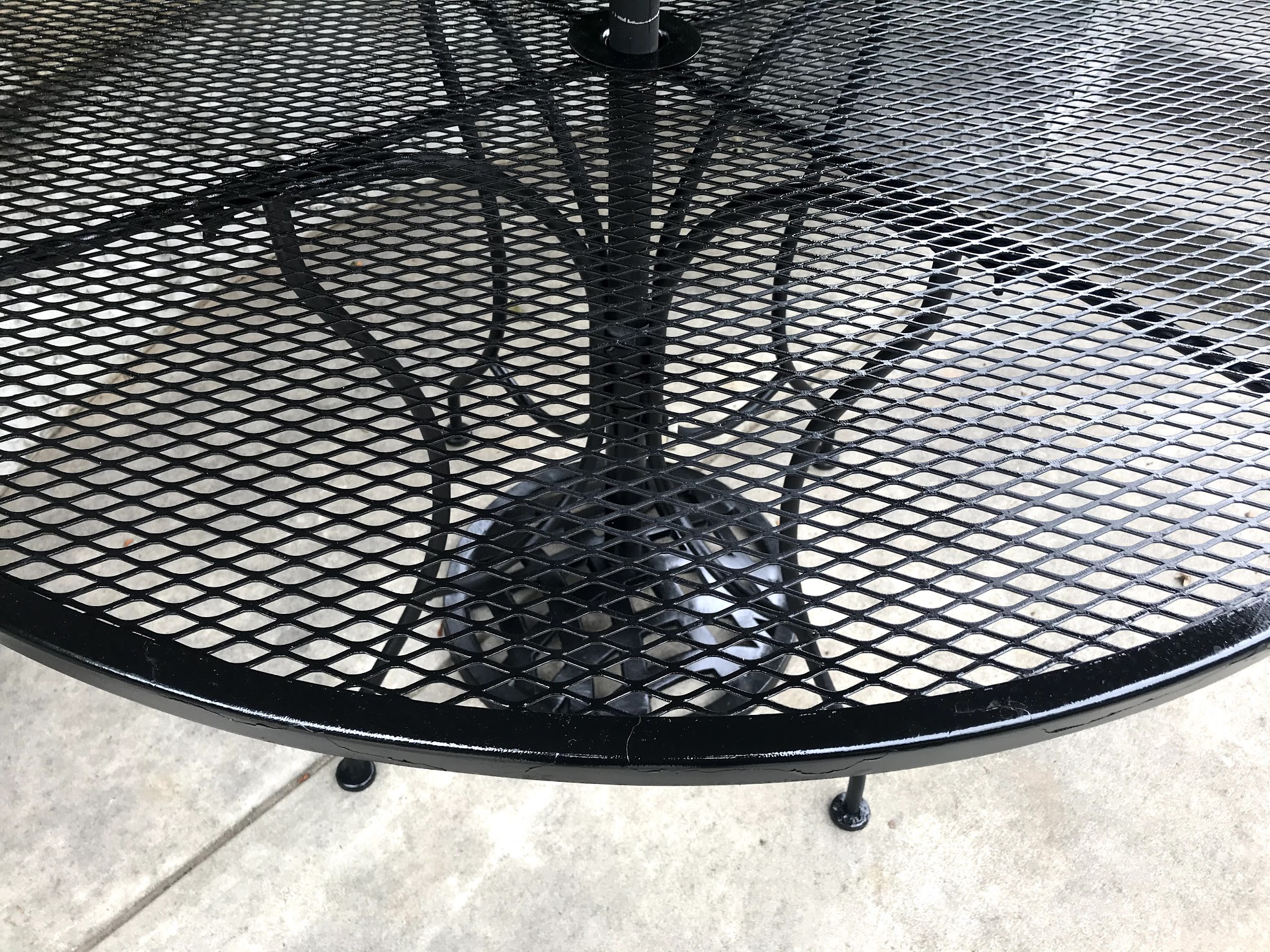 I like the classic look of this outdoor dining table because it fits the look of our traditional, stucco house. The downside is that even though it is powder coated to protect from rusting, after several years rust does develop.
However, I think it is the best value for your money.
To learn more about this type of outdoor patio table and how to spruce up your old, peeling or rusting wrought iron table click here:
Bistro Patio Table Set
Enjoy a cup of morning coffee or a quiet dinner by the pool with a bistro patio table set.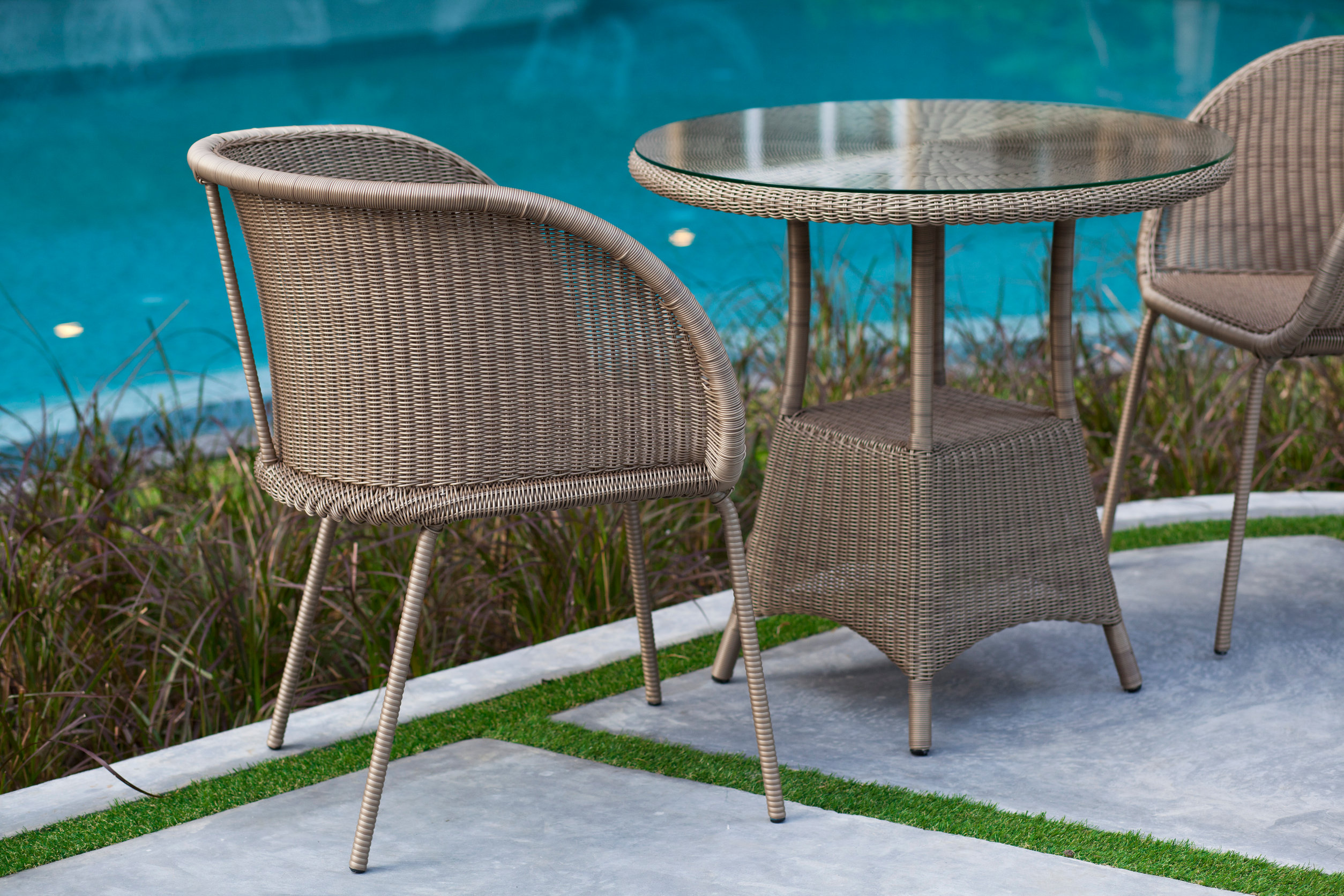 Choose from outdoor all weather wicker to aluminum, steel or wood. 
Bistro Patio Table Sets
Outdoor Dining Chairs
Outdoor dining chairs that offer comfort and quick drying fabric make these a favorite around our pool.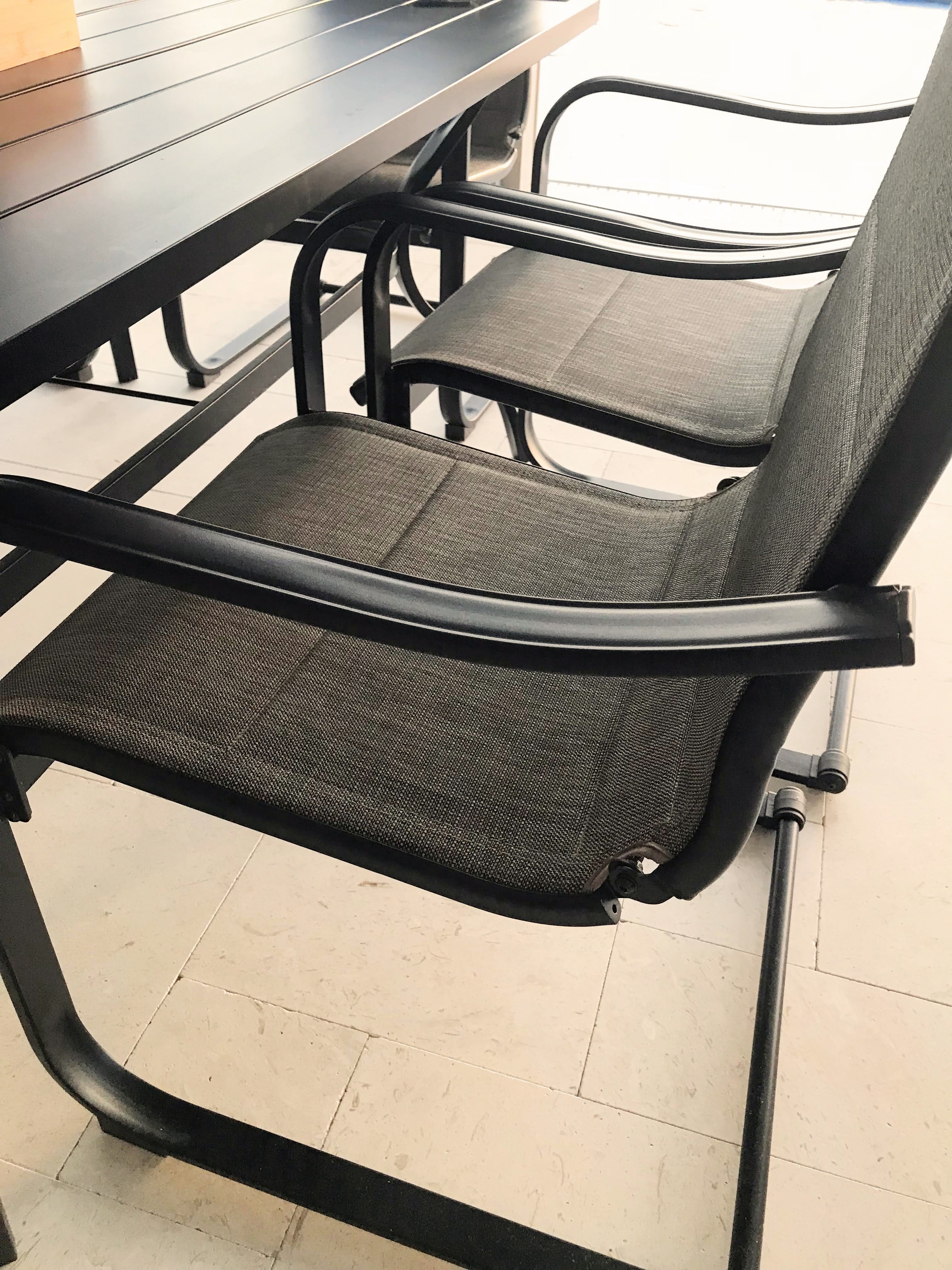 These wrought iron patio dining chairs are not only very durable but they also have a little rocking motion to them.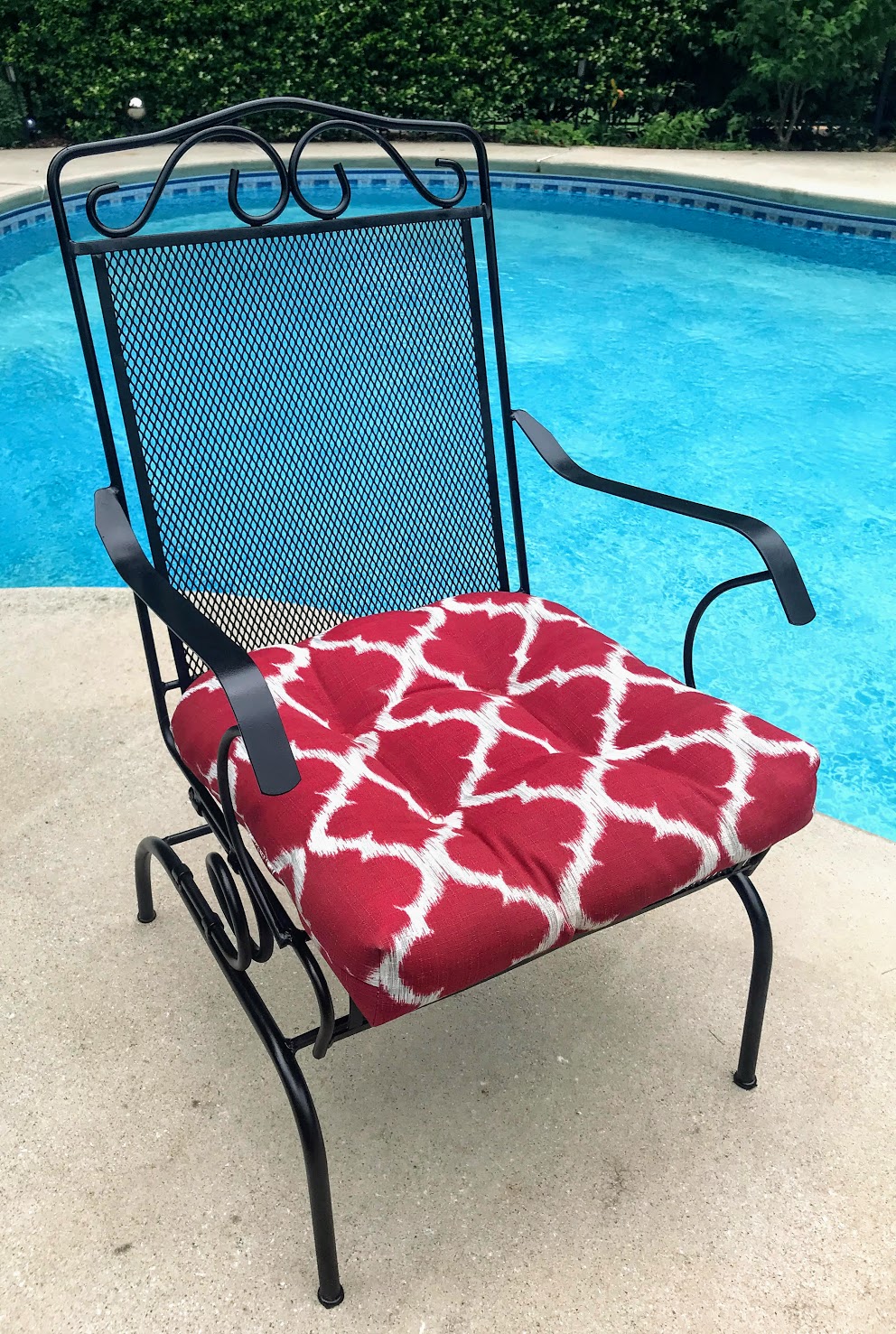 Once you've selected your outdoor table choose coordinating material for your outdoor dining chairs. 
Outdoor Patio Coffee Table

An outdoor patio coffee table provides a spot to set down a drink, a magazine or a plate of food. What good is an outdoor chaise lounge or chair if there is no place to set down a cold drink or a snack?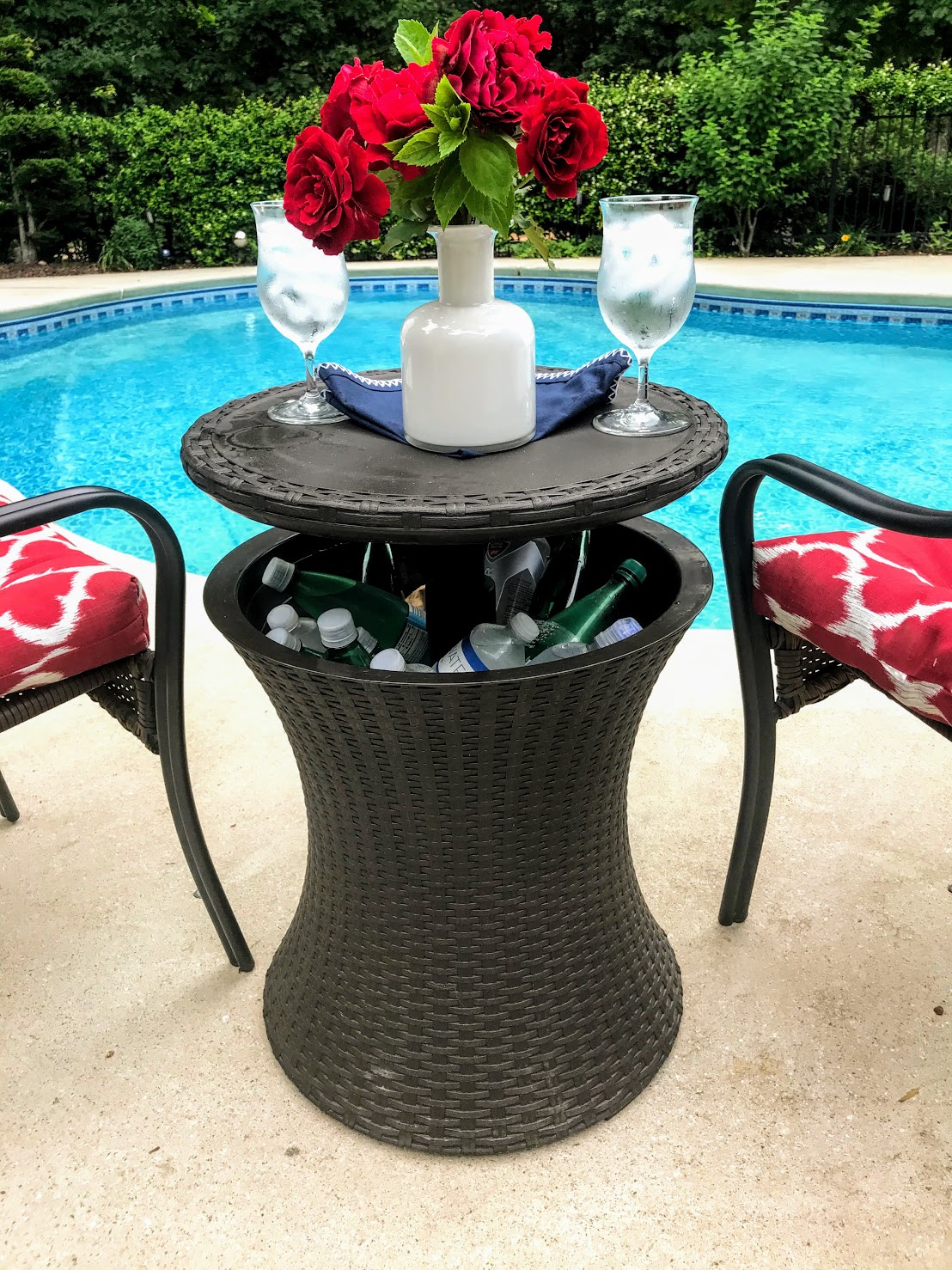 The top of the table can be raised so that you can use the bottom portion as a beverage cooler where you can add ice, water bottles or other beverages.

Outdoor Bar and Beverage Cooler
Outdoor side tables come in many different shapes, sizes, colors and frames. Ideally the style or frame of the table should be the same as your other outdoor lounge furniture. If you have a white wicker chaise lounge, then the end table should also be white wicker. Here are some of the common materials used for patio end tables.
1. Rust Resistant Cast Iron
These outdoor tables are rust resistant with a powder coated finish. This means it will rust after time - especially if you leave your outdoor furniture outside year round like we do.
2. Rust Free Cast Aluminum Frame
Some outdoor end tables are made from a rust-free aluminum frame, which means they shouldn't rust at all. It offers a light weight powder coated finish for durability.

3. Solid Hardwoods
An outdoor teak table will naturally age and turn colors - from a warm brown to a silver gray. Although protected by a heavy duty varnish for a durable finish it still will need to be revarnished periodically.
Other styles that are available include folding patio tables, for easy storage, and nesting tables which come in sets of 2 or 3 and make great tables for outdoor parties.
When purchasing a patio table top decide what kind of maintenance is involved. Glass tables require much more frequent cleaning than a wrought iron table top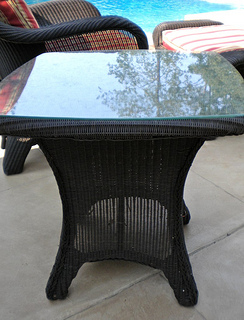 4. Glass Top Patio Tables
Look for a shatter resistant tempered glass top.
5. Mosaic Tile Patio Tables
They offer unique designs with lots of variety of different stones for different looks.
6. Wicker Patio Table
Thanks to all weather wicker, this patio end table doesn't need to stay on the porch any more. A wicker patio table offers a timeless and classic look. The new outdoor wicker is made of resin which makes it weather-resistant and can be easily cleaned by hosing it off.
Be sure to ask if the wicker furniture is using an aluminum or a steel frame. A steel frame will rust and an aluminum one will not.
Real wicker that is left in the sun will dry out, making the wicker brittle and prone to breaking. Moisture or water can warp the frame and after several years of exposure to water, the wicker will rot.
Resin wicker is a synthetic material that can be formed into what looks like real wicker. This type of outdoor wicker can be left outside, and some manufacturers will state that it can be left outside year-round - just be sure it has an aluminum frame.
The dye color is mixed right into the resin, so that there is no peeling or flaking of paint.
7. Wrought Iron Patio Table
A rust resistant finish will give you several years of use before signs of rusting appear.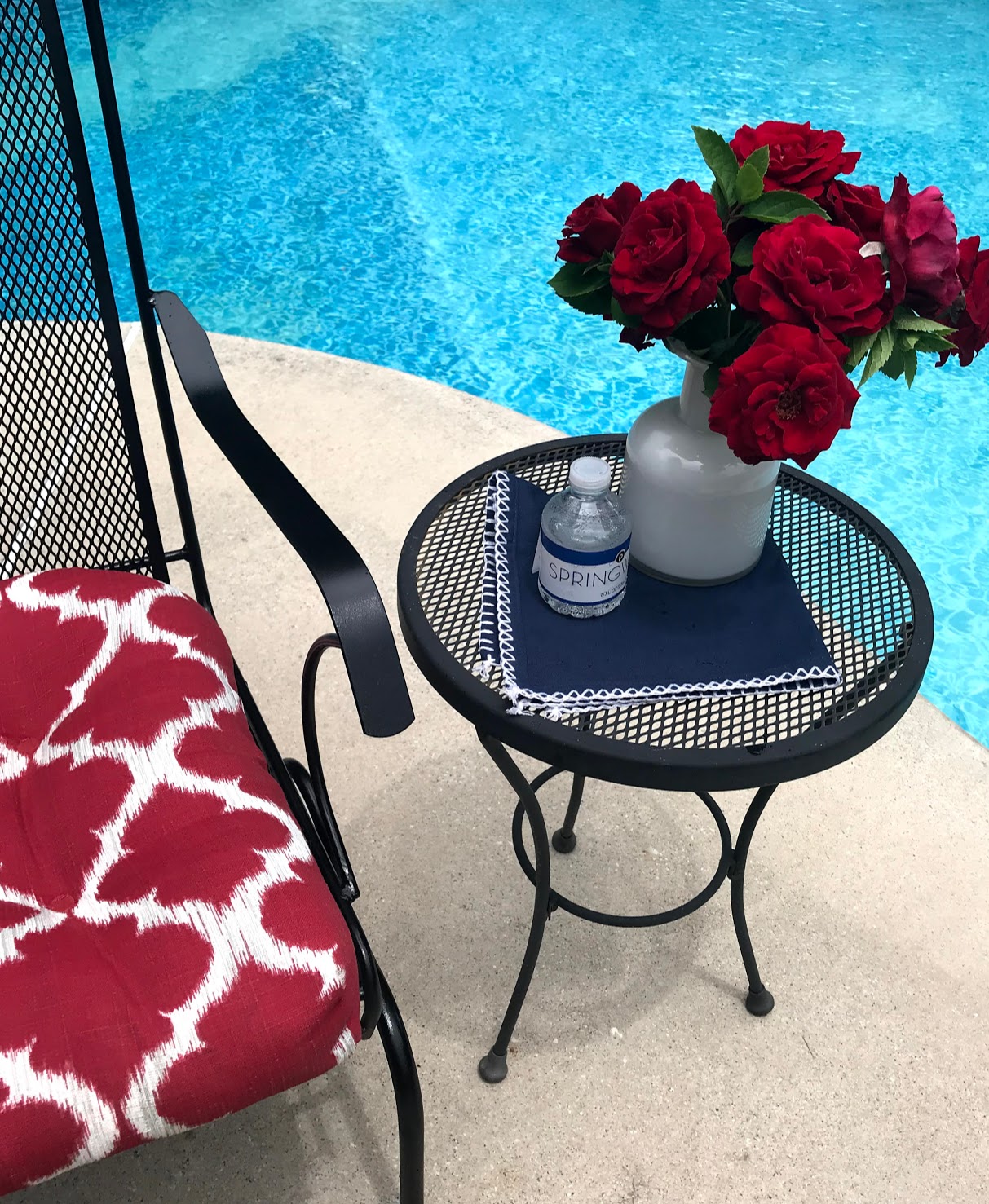 Outdoor Patio Coffee Tables
Patio Umbrella Side Table
A patio umbrella side table provides a handy place for drinks and food while giving some stabilization to your outdoor umbrella.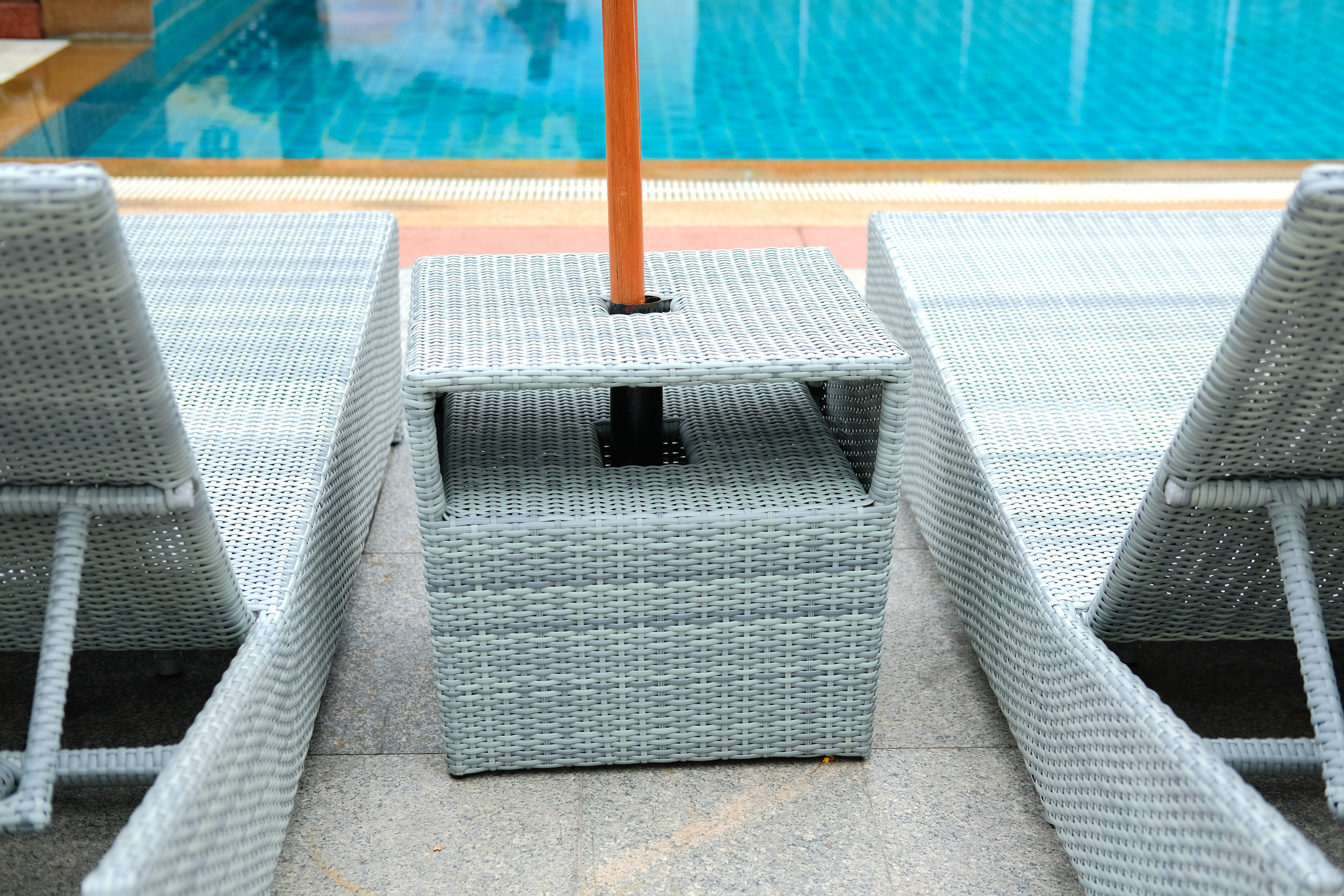 Share the shade and place your patio umbrella side table between two lounge chairs or two pool side chairs. 
When choosing an outdoor patio table consider where and how it will be used to determine the size, shape and material that's best for your outdoor use. 
Return to Swimming Pool Furniture

Go from Outdoor Patio Table to Pool Fun for Everyone Home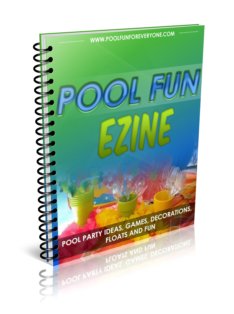 Looking for ideas to have fun with friends and family out by the pool? Get free tips on:
Pool Party Themes, Invitations, Games and Decorations
Outdoor Patio Umbrellas - Frame, Fabric and the Best Size
Swimming Pool Floats for Infants, Kids and Adults

Pool Party Food from Summer Appetizers to Cold Desserts
Outdoor Party Lights - Patio Umbrella Lights to Solar Torches


Sign up here:
© Copyright 2011 - 2023 www.PoolFunforEveryone.com
All rights reserved. This DMCA site is protected under U.S. and International copyright laws. Do Not Copy any Content or Images. No use is permitted without written permission.