Outdoor String Lights

Outdoor string lights provide more than light - they can provide a festive atmosphere or an elegant ambience.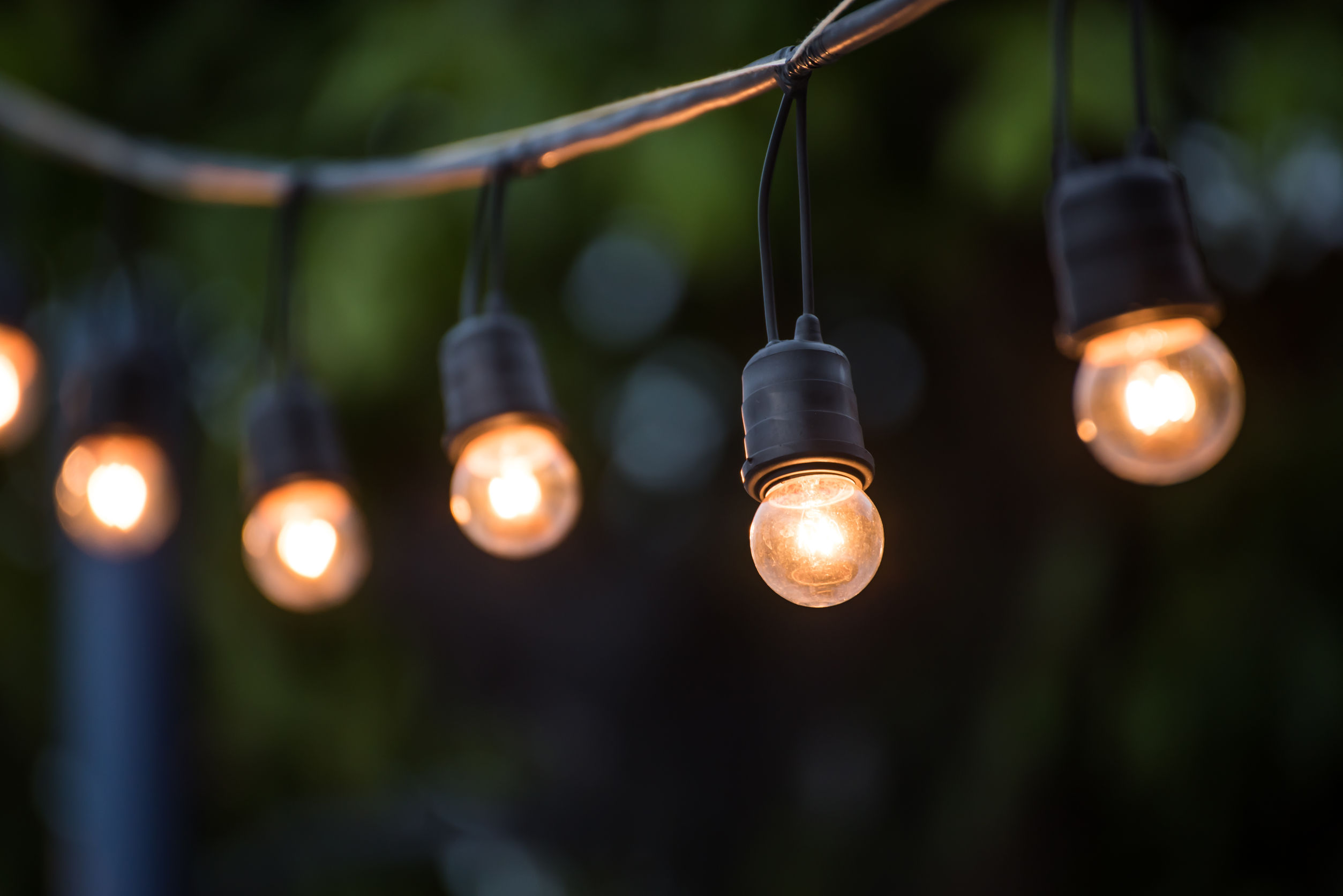 They can be powered by electricity, battery or the sun. No matter what style you choose, they make for great outdoor party lights. Place them in the bushes, string them in the trees, or wrap them around your deck railing.
---
Some links in the following sections are eBay or Amazon affiliate links, which means that if you purchase a product through them I receive a small commission. There is no extra cost to you. Find more details on this page.
---
Battery Operated Outdoor String Lights

Battery operated lights make it possible to place your patio string lights anywhere you want. Without any need for cords or electricity you don't need to worry about any outlet.
There are lots of places to light up the outdoors where there is no access to electricity. While solar can be a good option, if there isn't enough sun or if there is too much other lighting, it won't work. What to look for:
1. Outdoor Lights

Look for those that state they are outdoor lights. Sometimes the string of lights is water resistant but not the battery pack. Others will list if they are both water resistant for outdoor use.
2. Warm or Cool Lights

Warm lights have a more yellow tint while the cooler lights have a more blue tint.
3. Timer
I like the sets with timers. To set the timer for the first time, turn them on to the setting (T) at the time you want them to automatically turn on each evening - let's say 7:00 PM. That means your lights will go on automatically every night at 7:00 and then after 5-6 hours they will automatically turn off.
4. LEDs

Most string lights are now using LED lights. They are so much better! They virtually will never burn out like the old Christmas string lights.
5. Number of Lights
This set of 50 lights can be used anywhere since it's battery operated. 
50 LED Outdoor Globe String Lights 8 Modes Battery Operated Frosted White Ball (dimmable, Ip65 Waterproof, Timer, Warm White)
Solar LED Outdoor String Lights

Solar LED string lights are becoming more popular and more available in an assortment of colors and styles. These string lights are not just for outdoor decorating at Christmas. Use them for your outdoor party lights or for your own enjoyment.

What can be easier than letting the sun power your patio string lights - no need for any batteries or electricity so you can place them anywhere that gets full sun to the panel. We love how they automatically come one every night and often still glowing to greet me when I get up early in the morning before the sun comes up. They are not just for pool party decorations - leave them out year round for your enjoyment.

Using sunlight for power, outdoor solar lights can be placed practically anywhere without annoying cords or the need for nearby outlets.
They stay illuminated for 8 - 16 hours depending on lighting conditions. The lights turns on/off automatically via a built in light sensor.
We've had this set for over a year and the nice, warm lights are so welcoming every night.  They are wrapped around our arbor, give off a nice warm, but bright light. If you want a warmer LED light than the typical blue white here is one from Amazon:
2 Pack Solar String Light 200LED 75.5ft 8 Modes Solar Christmas Lights Waterproof for Gardens, Christmas, Outdoors
Paper (actually nylon) Lantern Outdoor String Lights

Paper lantern string lights can come in bright bold colors like turquoise, orange, and yellow or for a softer look, try pastel colors or all white.
String them around your patio umbrella or in a nearby tree. Hang them on the deck railing or along the pool fence.
This set of lanterns is actually not made of paper but of nylon - which is a big plus for me. Many a time I have set out paper lanterns only to have an unexpected or expected rain shower wreck them. Each lantern is approximately 3" diameter and are expandable. Meaning you can plug in several strings together.
Set of 10 White Indoor/Outdoor Mini Nylon Lantern Plug-in String Lights - Expandable to 150 Lights
Star String Lights

Star string lights aren't just for the Fourth of July. Use them year round and hang them on your pool fence, deck railing, around a bush or on a trellis.
These star shaped lights can be used as outdoor string lights. One set is a strand of 50 warm white lights.  The brightness can be controlled with the included remote and adjusted to your preference.
These battery operated string lights use 3 AA batteries - which are not included.  Set the timer for 6 hours on and 18 hours off for automatic lights every evening. 
Battery Operated Star LED String Lights 16 Feet 50 LED Warm White String Lights - With Remote and Timer
Go from Outdoor String Lights to Outdoor Party Lights

Go from Outdoor String Lights to Pool Fun for Everyone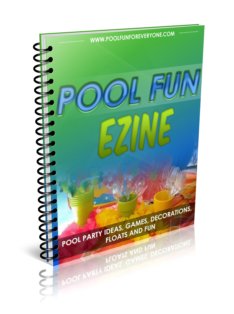 Looking for ideas to have fun with friends and family out by the pool? Get free tips on:
Pool Party Themes, Invitations, Games and Decorations
Outdoor Patio Umbrellas - Frame, Fabric and the Best Size
Swimming Pool Floats for Infants, Kids and Adults

Pool Party Food from Summer Appetizers to Cold Desserts
Outdoor Party Lights - Patio Umbrella Lights to Solar Torches


Sign up here:
© Copyright 2011 - 2023 www.PoolFunforEveryone.com
All rights reserved. This DMCA site is protected under U.S. and International copyright laws. Do Not Copy any Content or Images. No use is permitted without written permission.