Pirate Birthday Party Ideas
Looking for pirate birthday party ideas that will take your mates onto the "deep" seas of your swimming pool? Furnish your mateys with pirate names, eye patches, swords, and pirate hats.

Pirate Birthday Party Supplies
What fun we had getting our pirate birthday supplies - eye patches, swords, stickers, cups, flags and more. Most of the pirate birthday party supplies we bought on line to save time and money.
You can provide a simple inexpensive pirate wardrobe for all the guests like pirate hats, swords, eye patches, or bandanas.
If you'd like to go all out with pirate props - there are treasure chests, pirate flags, gold coins and more.
A pirate birthday party is a cool pool party theme that will be a party to remember. The invitation sets the theme. It doesn't take a lot of time or money to get creative.
Here are some pirate party ideas for invitations.
Get creative and use a cardboard treasure chest with some gold coins, a silk black pouch, a worn and wrinkled treasure map in a bottle or a pirate flag.
We used a foam sticker kit of a large ship and added some pirate stickers to it.
For more ideas go to: Pirate Birthday Supplies


Pirate Birthday Party Ideas for Decorations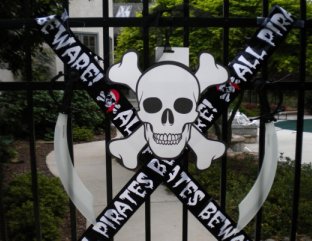 Start your pirate decorations at the pool gate. This let's the guests know that they are entering pirate territory.
Scatter gold coins or foam stickers of coins and jewels along the path or sidewalk to the pool area. We could hear the kids excitement as they "found"  and picked up their treasures.
Plastic swords can be hung from branches or umbrella ribs. Make signs on ripped pieces of cardboard attached to a wooden dowel and put them in the ground. Signs can say things like "Surrender the Booty" or "Pirates Only: NO Trespassing."
Pirate Birthday Party Ideas
Pool Games for Kids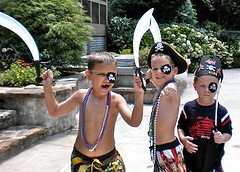 Send your pirates on a race to get their hidden treasures. Provide one inner tube for each team. Each team member takes a turn and while sitting on the inner tube kicks and splashes to get to the other side of the pool where there is a pile of necklaces waiting for them. After grabbing one necklace the player returns to his team where he tags the next team mate to do the same.
Pirates "Walk the Plank" and "Swab the Deck" with these pirate party games.
Pirate Party Food

Turn ordinary food into pirate party food just by how it is presented. Serve chips in an upside down Pirate hat lined with a red napkin.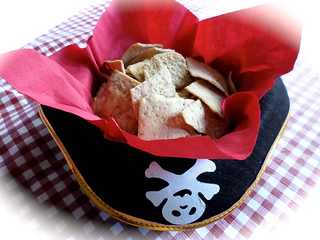 Serve chips, Chex Mix, Gold Fish or a nut and raisin mix in Pirate themed paper cups.
Sword food picks inserted into cut up pieces of fruit or cheese are simple ways to decorate the food and yet simple to do.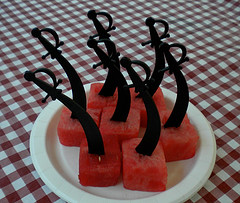 Cut up watermelon pieces are served on a plate using plastic sword picks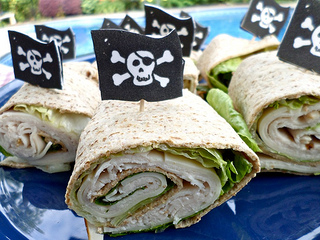 Whole grain wraps are made with a little mayo, deli turkey, provolone cheese and romaine lettuce. Get a set of 24 Pirate Flag Pix for under $5 at Amazon here:Wilton Pirate Flag Pix, 24 Count

Keep Your Pirate Party Food Cold with a Treasure Chest Cooler
An inflatable treasure chest can be used to keep drinks or food cold or as a decorative prop.  It measure 26" long, 16" tall and 14 1/2" deep when it is fully inflated.  It holds about 60 cans.
Inflatable Treasure Chest Cooler

These gold coins are pirate themed and can be used in the party bags, to decorate the party table or for treats during the party.

Gold Chocolate Pirate Coins x25

Pirate Birthday Cake
A pirate birthday cake is made easy by making cupcakes. If you are like me, you want to make something that's fun for the kids and easy to make.  Finger puppets and rubber pirate rings all make great toppers for cupcakes.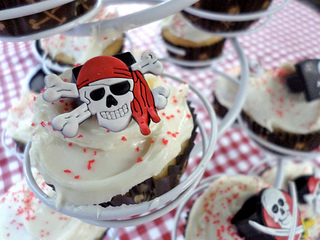 Pirate themed cupcake liners and pirate rings turn ordinary cupcakes into something fun and creative, and most important, easy and inexpensive.
Use these colorful rubber rings to top your cupcakes. The kids love them as much as they do the cupcakes.

They come in a package of 12 with four different designs for less than $6.00.  Get them at Amazon with free shipping if you are a prime member: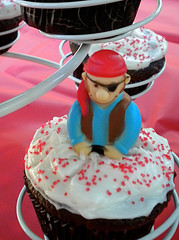 Use plastic finger puppets as cupcake toppers and sprinkle some red sugar crystals on white frosting for a pirate birthday cake and take home party favor. 
Six Pirate Finger Puppets
Pirate decorated cupcakes displayed in a Cupcake Stand can be used as pirate decorations. Set the cupcake tower on the food table as the centerpiece.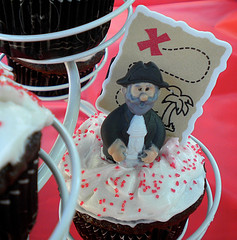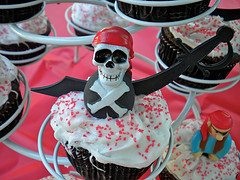 Ordinary food becomes extra-ordinary by just using pirate themed serving pieces, swords and finger puppets. 

Go from Pirate Birthday Party to Kids Pool Party Ideas

Go from Pirate Birthday Party to Pool Fun for Everyone Home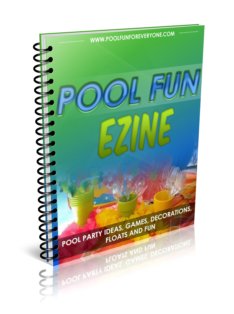 Looking for ideas to have fun with friends and family out by the pool? Get free tips on:
Pool Party Themes, Invitations, Games and Decorations
Outdoor Patio Umbrellas - Frame, Fabric and the Best Size
Swimming Pool Floats for Infants, Kids and Adults

Pool Party Food from Summer Appetizers to Cold Desserts
Outdoor Party Lights - Patio Umbrella Lights to Solar Torches


Sign up here:
© Copyright 2011 - 2023 www.PoolFunforEveryone.com
All rights reserved. This DMCA site is protected under U.S. and International copyright laws. Do Not Copy any Content or Images. No use is permitted without written permission.