Solar Tiki Torches

Solar tiki torches add a special ambience to any outdoor party. They can be placed anywhere that gets sunlight to light up pathways, steps, dark corners or party areas.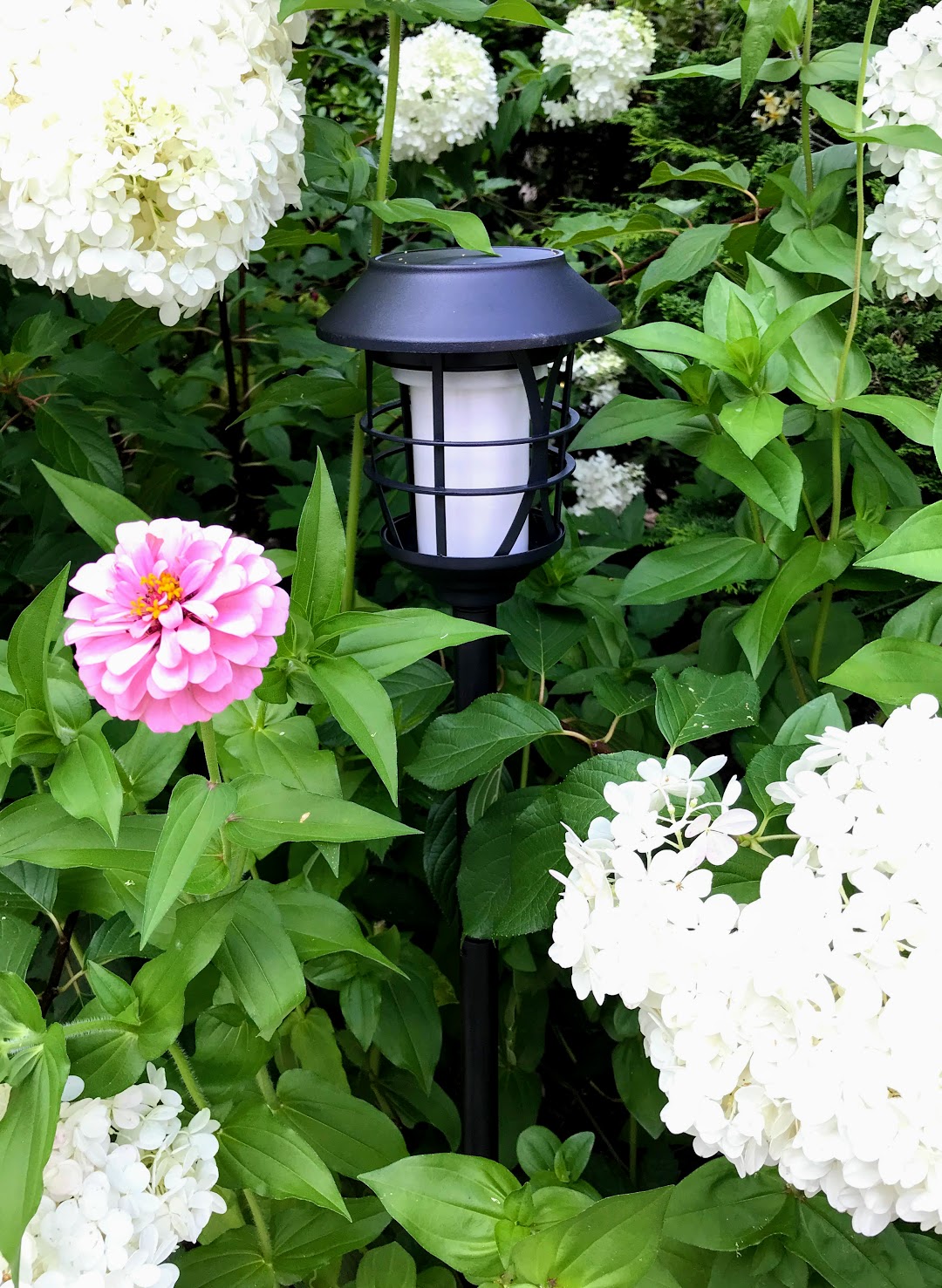 Solar tiki torches mimic the appearance of traditional Polynesian torches while being powered by solar energy. They typically consist of a metal or bamboo stake with a flame-shaped light fixture at the top. Inside the fixture, there is a small solar panel that collects sunlight during the day and converts it into electricity. This energy is then stored in a rechargeable battery, which powers LED lights that create a flickering flame effect at night.
Consider using them:
1. At the entrance to your pool or backyard - one on either side of the sidewalk or path
2. Along the perimeter of your pool or yard
3. Near the food table, sitting area or dining area
Flickering Solar Tiki Torches
---
Some links in the following sections are eBay or Amazon affiliate links, which means that if you purchase a product through them I receive a small commission. There is no extra cost to you. Find more details on this page.
---
Here are the benefits of going with solar tiki torches:
Solar Power: They are eco-friendly and cost-effective because they don't need any torch fuel. Instead, they harness energy from the sun, making them a sustainable lighting option for outdoor spaces.
Automatic Operation: Solar tiki torches use light sensors that automatically turn the torches on at dusk and off at dawn. This means you don't have to go around and light up each torch in the evening and then blow them out when the party ends. 
Flickering Flame Effect: The LED lights in solar tiki torches are designed to replicate the natural flickering of a flame. This creates a warm and inviting ambiance for outdoor gatherings, parties, and events.
Weather Resistance: Solar tiki torches are designed to withstand various weather conditions, including rain, snow, and wind. They are often constructed from durable materials like stainless steel, bamboo, or weather-resistant plastics.
Easy Installation: They are generally easy to install. You simply need to stake them into the ground in an area that receives ample sunlight during the day.
Safety: Unlike traditional torches, solar tiki torches do not use an actual flame, which eliminates the risk of fire hazards. This makes them a safer alternative, especially in areas prone to wildfires or during fire bans.
Decorative Element: Solar tiki torches come in various styles and designs, allowing you to choose ones that complement your outdoor decor. They can add a touch of elegance and a tropical vibe to your garden, patio, or backyard.
Maintenance: They require minimal maintenance. Periodically, you may need to clean the solar panels to ensure they receive maximum sunlight exposure.
Overall, solar tiki torches are a popular and practical choice for outdoor lighting, providing both aesthetic appeal and environmental benefits. They offer an easy and convenient way to add a touch of ambiance to your outdoor space without the need for traditional fuel sources or electrical wiring.
We have these solar tiki torches placed around the walkway to the pool and around the pool perimeter. They get full sun and truly are dusk to dawn solar outdoor landscape lights.

Many times they are still going strong at 6:00 in the morning. Be sure the light is turned to the on position (located at the back of the solar panel) and that the torch gets direct sunlight for at least 8 hours when you first use it. No oil, no batteries, no wiring just simply solar which means these flickering solar lights will come on automatically every evening.
The flickering light gives it a touch of a real tiki torch without the hassle.
TomCare Solar Powered Tiki Torches Dusk to Dawn Auto On/Off, 4 Pack
These solar tiki torches don't just glow - they flicker and look like real flames at night.
So many of our guests and neighbors are amazed by how real they look and want to know where we got these pool party lights.

No turning on or off your lights and no setting timers. No need for electricity.  You will love the nice warm, yellow flickering glow these tiki torches provide.
Place them around the perimeter of your pool, by the pool gate or on the path to your backyard.
TomCare Solar Flickering Garden Tiki Lights - Set of 4
Solar Torches

These solar tiki torches need to get several hours of sun to come on every evening and to stay on until the wee hours of the morning. Be sure to remove the battery insulator tab when you get them or they won't come on.
Because the torches have 3 different tubes - you can make them taller or shorter. It also comes with a stake so you can easily push the torch into the ground. The solar torches by the steps leading to the pool and by the gate to the pool are tall - using all 3 pieces and the ones around the perimeter we used only two of the tubes for a medium height.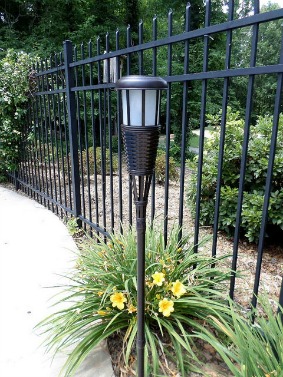 A solar torch is the easiest of all yard torches. You place them in the ground in a sunny spot, and they automatically turn on when the sun goes down.
We have this set of solar torches from Amazon.  They have a flickering amber light which makes them look more like a real flame.  They are my favorite lights for around the pool.  I purchased a second set when I fell in love with how they glow and flicker - placed them all around the perimeter of the pool.  I got the dark chocolate colored torches but they also come in a lighter natural color as well.

If you buy the set of 4 (rather than set of two) the price is discounted.
Newhouse Lighting 4 Solar-Powered Flickering Flame Outdoor Tiki Torches, 4-Pack, Bamboo
Made of polycarbonate - they won't rot like the bamboo torches do after on season.
We love how simple solar tiki torches are - no need to light them, you can leave them unattended, they don't use any fuel or wicks, no batteries and ours stay lit until the sun comes up.

 Return to Pool Fun for Everyone Home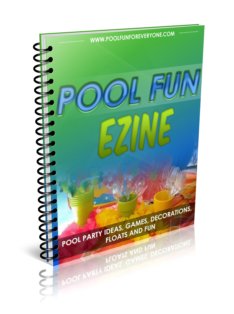 Looking for ideas to have fun with friends and family out by the pool? Get free tips on:
Pool Party Themes, Invitations, Games and Decorations
Outdoor Patio Umbrellas - Frame, Fabric and the Best Size
Swimming Pool Floats for Infants, Kids and Adults

Pool Party Food from Summer Appetizers to Cold Desserts
Outdoor Party Lights - Patio Umbrella Lights to Solar Torches


Sign up here:
© Copyright 2011 - 2023 www.PoolFunforEveryone.com
All rights reserved. This DMCA site is protected under U.S. and International copyright laws. Do Not Copy any Content or Images. No use is permitted without written permission.