Sunbrella Umbrellas

Best Pool Umbrella Fabric
Sunbrella umbrellas are the only type of outdoor patio or pool umbrella that we buy and use. Here is why ...

Benefits of Sunbrella Umbrellas
The benefits of paying more for this umbrella fabric include:
Fade Resistant
After purchasing cheaper pool umbrellas that have faded in one season, we made the switch to Sunbrella fabric only.  Our tan Sunbrella umbrella we have had for 10 years, our green one for 4 years and our blue one for 3 years.  None of them show any signs of fading.  They have all maintained their color and are as vibrant as when we first purchased them.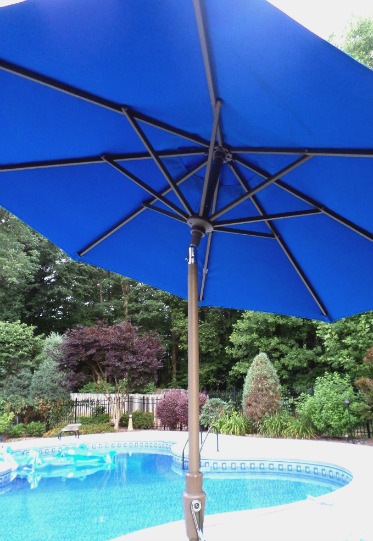 "Sunbrella performance fabrics are made of 100% solution-dyed acrylic. Our fibers are saturated with color and UV-stabilized pigments before they're spun into yarn–meaning the pigment goes all the way through the fibers and the color stays true over time" explains Sunbrella website.
Mold Resistant
Living in the hot and humid southeast, mold loves to grow on any fabric that's left outside. Especially if it's a wet summer.  Our pool umbrellas have remained mold free even though we leave them out for more than 6 months out of the year.

Stain Resistant
Our tan large patio umbrella has been tested many times when deep pink blossoms fell on the fabric every summer from our Crepe Myrtle tree.  We would hose off the blossoms after all the flowers fell and to our surprise not one of them stained the umbrella.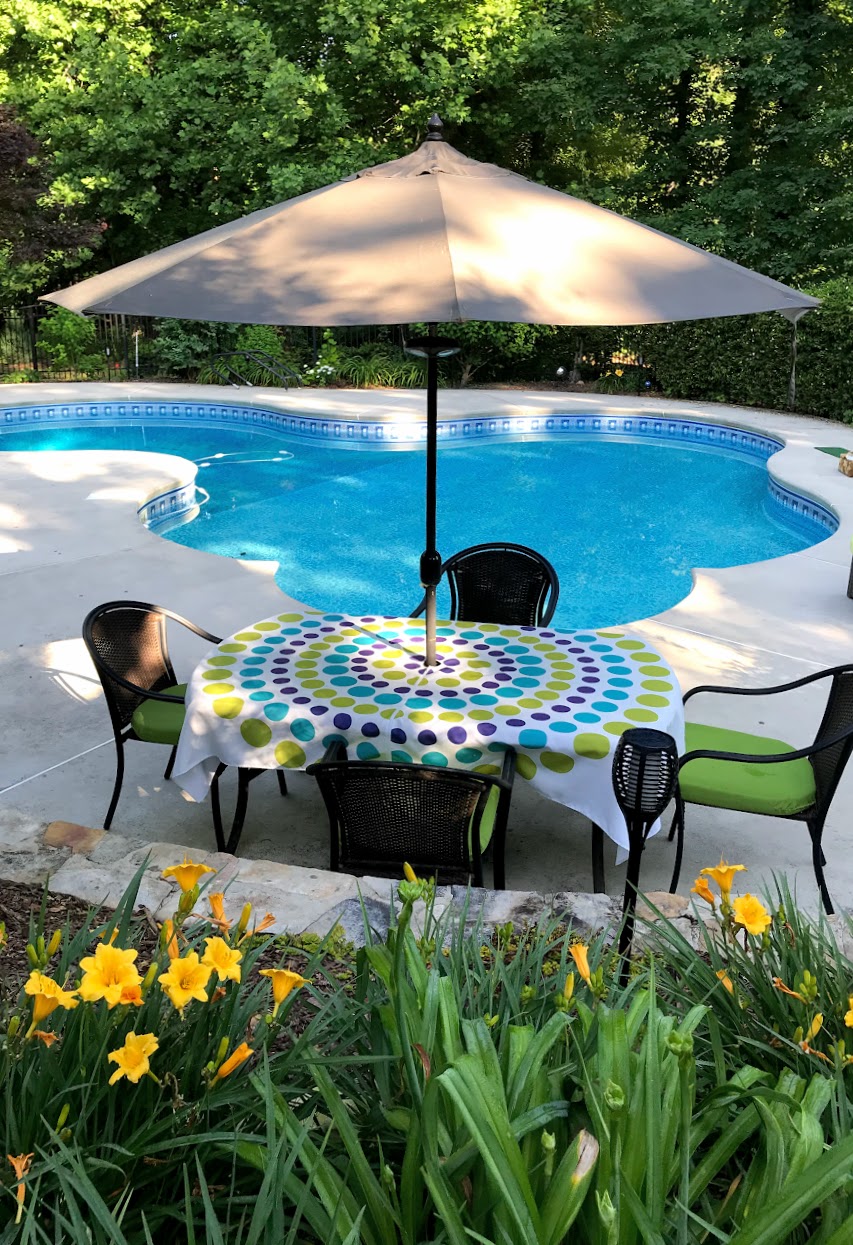 Water Repellent Thick Durable Fabric
You can tell from this picture the thickness and tight weave of the fabric.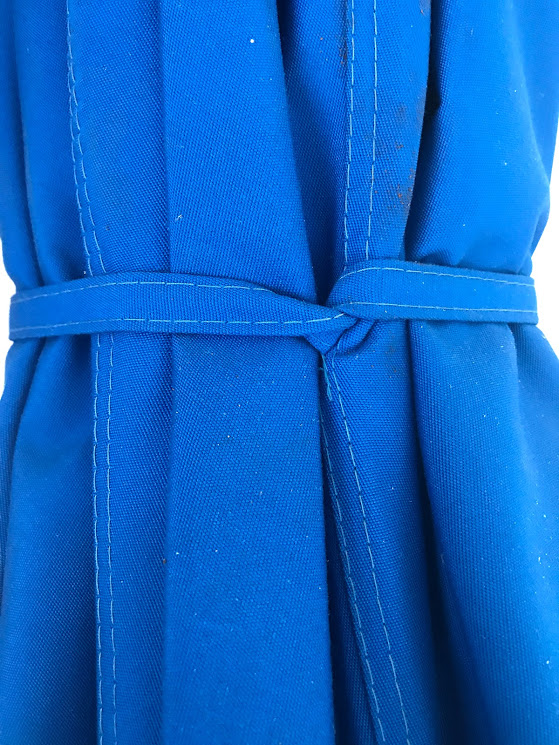 We can even enjoy some time out by the pool under this umbrella when there is a light rain and we don't get wet.  The thick water repellent fabric also protects our chair cushions from getting wet or fading during a light rain.

Vibrant and Rich Color Selection

Our daughter loves red outdoor umbrellas - after seeing how quickly the non-Sunbrella patio umbrellas faded, she became a Sunbrella customer.  Here is a picture of her red Sunbrella umbrella that she has had for over 4 years.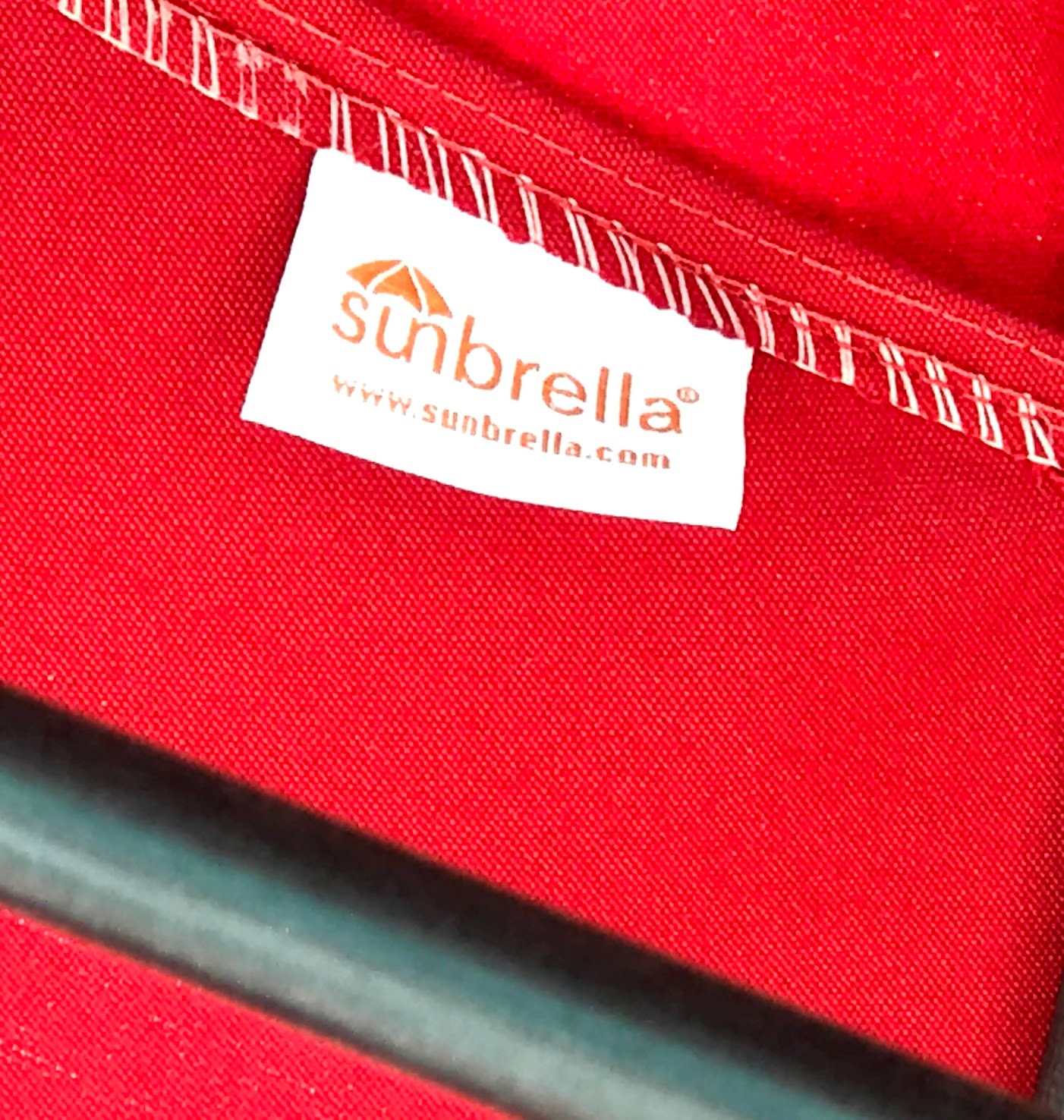 UV Protection
The thicker weave keeps your outdoor dining area or conversation set shaded and protected from UV light.

Comes in a variety of sizes and shapes
We have a small 7' umbrella, a large round patio umbrella at 11', a rectangular umbrella and a cantilever umbrella - all made with Sunbrella fabric.

Rectangle Sunbrella Umbrella
This rectangle patio umbrella shades our outdoor kitchen area keeping not only the guests comfortable but also the granite from getting too hot.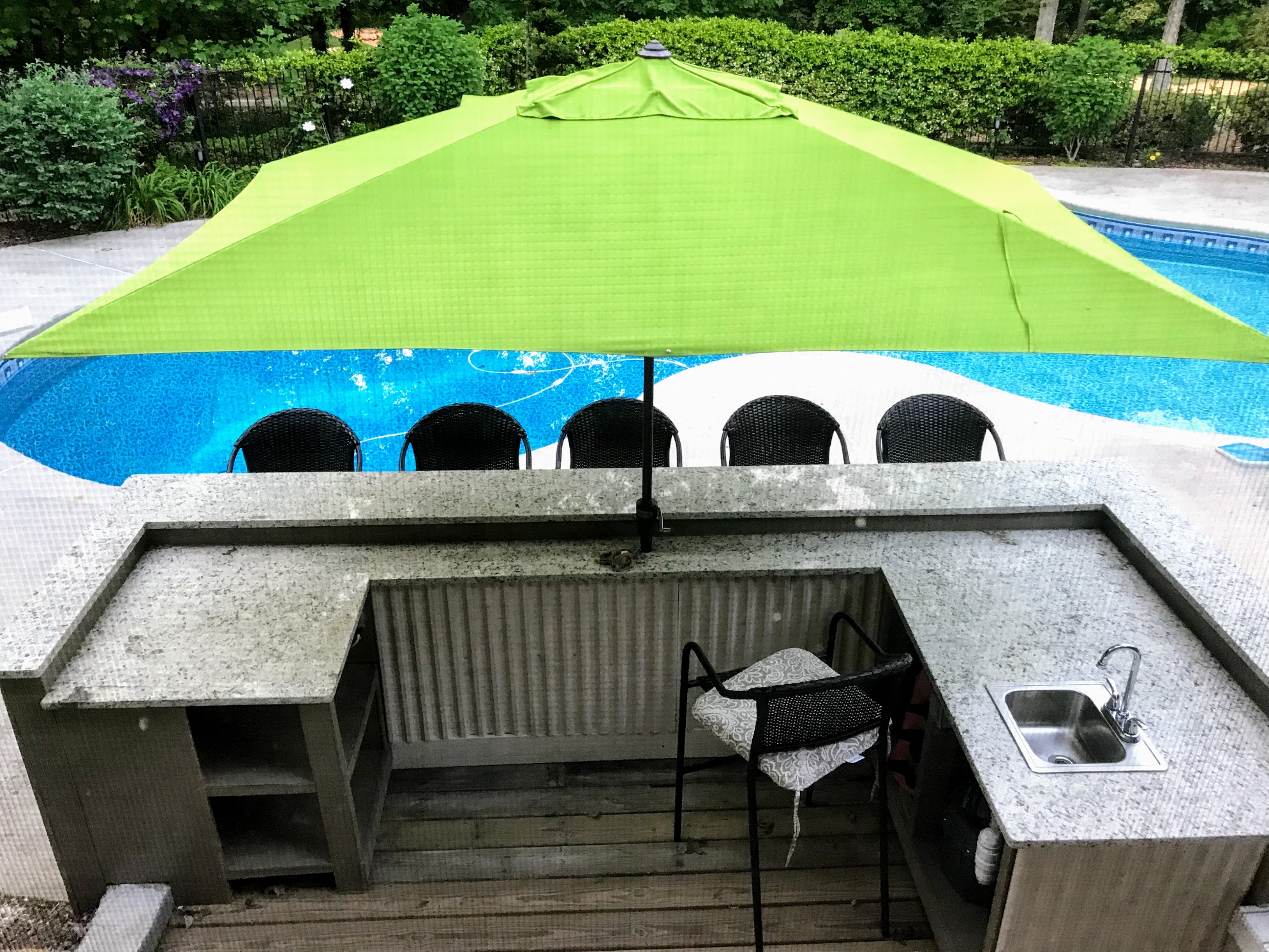 This is our favorite place to hang out by the pool with friends thanks to the shade it provides.

EliteShade Rectangle Sunbrella Umbrella with Ventilation, 5 Years Non-Fading
Cantilever Sunbrella Umbrella
Our latest Sunbrella umbrella purchase is this cantilever umbrella.  This heavy duty umbrella rotates 360 degrees so  we can shade 3 areas with one umbrella.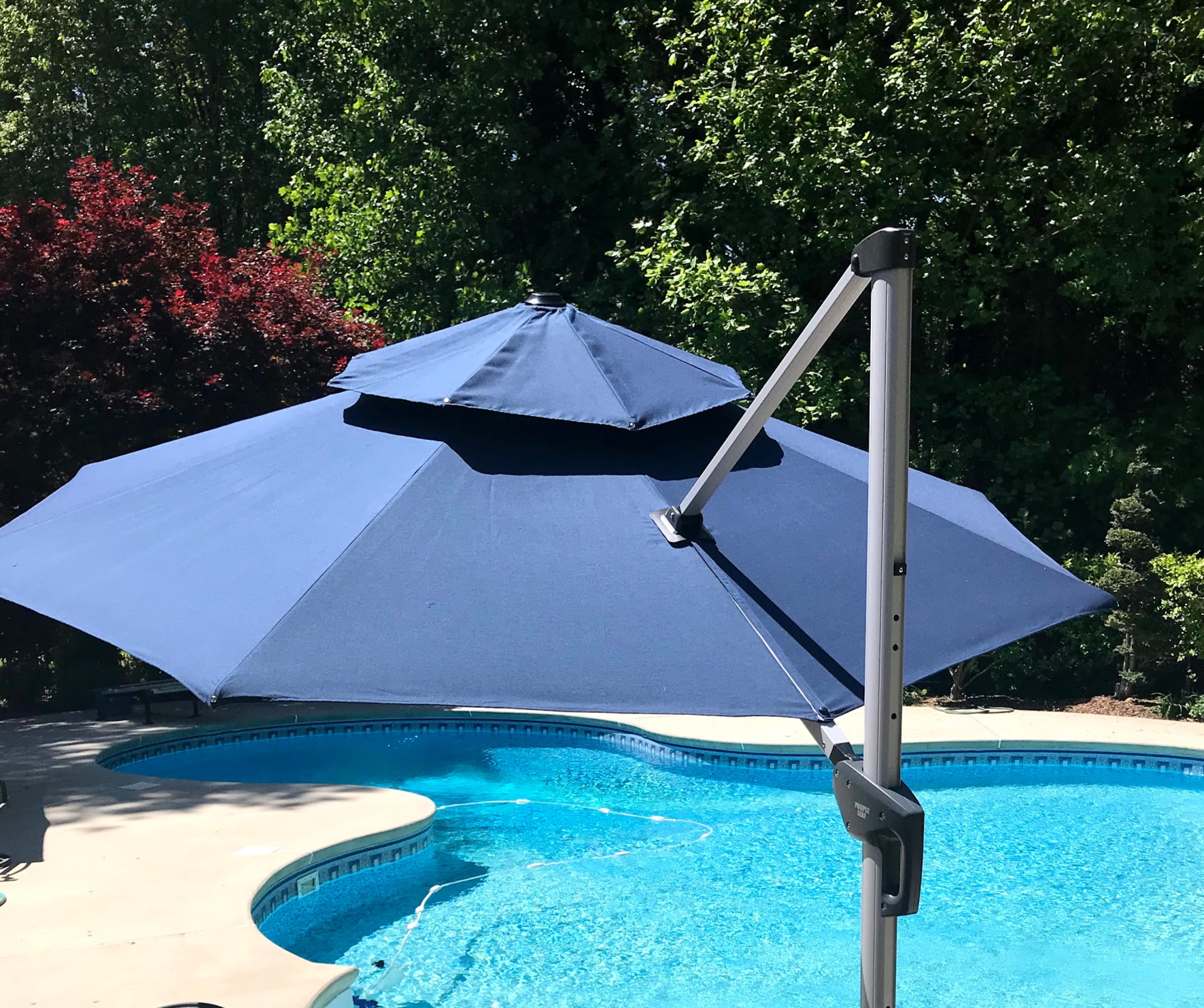 Because it was a large purchase we didn't want one that would fade it one season so we spent the extra money for the Sunbrella option.
PURPLE LEAF 11 Feet Double Top Deluxe Sunbrella Round Patio Cantilever Offset Umbrella

While you do pay more for Sunbrella umbrellas, you will not have to replace them for years and will find that they continue to look like new year after year.

Sunbrela Umbrellas
Go Back to Outdoor Pool Umbrellas

Return to Pool Fun for Everyone Home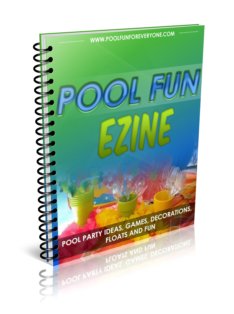 Looking for ideas to have fun with friends and family out by the pool? Get free tips on:
Pool Party Themes, Invitations, Games and Decorations
Outdoor Patio Umbrellas - Frame, Fabric and the Best Size
Swimming Pool Floats for Infants, Kids and Adults

Pool Party Food from Summer Appetizers to Cold Desserts
Outdoor Party Lights - Patio Umbrella Lights to Solar Torches


Sign up here:
© Copyright 2011 - 2022 www.PoolFunforEveryone.com
All rights reserved. This DMCA site is protected under U.S. and International copyright laws. Do Not Copy any Content or Images. No use is permitted without written permission.