Tilt Patio Umbrella

A Pool Umbrella for Any Time Shade
A tilt patio umbrella allows you to adjust the umbrella so that you and your guests remain shaded no matter where the sun is.

After taking down 26 trees in our backyard, we lost most of the shade around the pool (but we do have warmer pool water). Before we didn't even need a pool umbrella because the trees shaded our backyard most of the day. Now, without the shade it is too hot to sit out by the pool without some kind of outdoor umbrella.
Tilt Patio Umbrella with Crank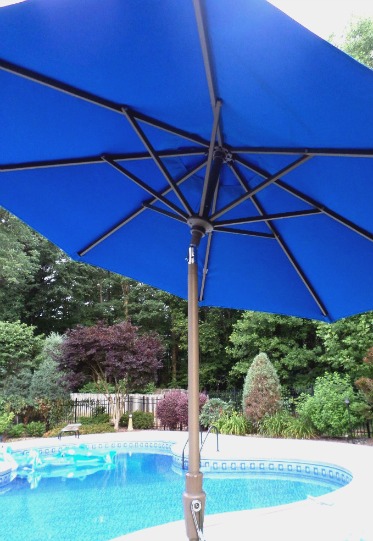 When we were shopping for a good sun protection umbrella, we knew that we wanted the tilt feature. The tilt feature means we can adjust the umbrella so we can always be in the shade.
How your patio umbrella tilts is an important feature to know before you make your purchase.
Tilting patio umbrellas can be as simple as turning a crank or pushing a button.
1. Push Button Tilt
The push button tilt feature has been around the longest. The button is located at the top of the umbrella hole.
By pushing in the button, you release a locking mechanism that allows you to hold the umbrella canopy to get it into the right position. Once it is the desired position you release the button to lock it into place.
This works great for those of you over 5' tall - but for me this was not an option as I am not tall enough to comfortably reach the button and hold the umbrella.
2. Crank Tilt Mechanism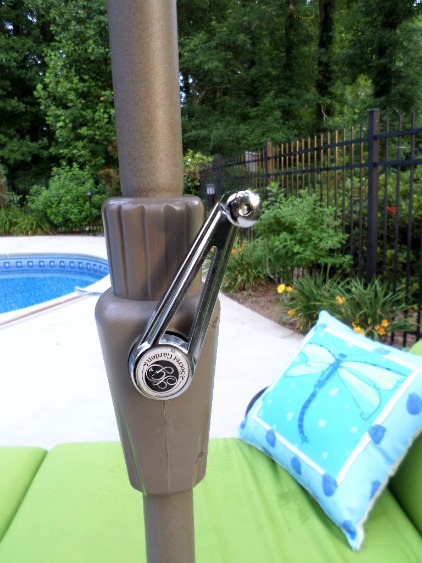 When we went shopping for a patio umbrella and I saw this tilt mechanism, I knew that this is what I wanted.
See where the crank is located? It's at an easy to reach height even for those of us who are height challenged.
To open the umbrella you simply crank the mechanism that is located just above table height.
Once the patio umbrella is opened by cranking the shaft, you simply crank it again and it automatically goes into a tilt position.
Look for a crank tilt umbrella that offers 360 degree rotation so that you can rotate the tilted umbrella to wherever the sun is.
Get your crank open umbrella with a tilt feature at Amazon here:
Sundale Outdoor 9 Ft Sunbrella Fabric Market Umbrella, Push Button Tilt and Crank
Rectangle Patio Umbrella with Tilt
A rectangle patio umbrella provides great shade for our oval outdoor patio dining area.

The sun is most intense and hits the outdoor dining area in late afternoon.  With a tilt feature we can still sit comfortably in the shade. This pool umbrella is easy to open and close by the crank handle. Press the push button to tilt it according to the position of the sun.

Tilt Umbrellas
Go from Tilt Patio Umbrella to Outdoor Umbrellas

  Return to Pool Fun for Everyone Home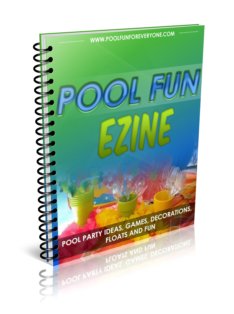 Looking for ideas to have fun with friends and family out by the pool? Get free tips on:
Pool Party Themes, Invitations, Games and Decorations
Outdoor Patio Umbrellas - Frame, Fabric and the Best Size
Swimming Pool Floats for Infants, Kids and Adults

Pool Party Food from Summer Appetizers to Cold Desserts
Outdoor Party Lights - Patio Umbrella Lights to Solar Torches


Sign up here:
© Copyright 2011 - 2023 www.PoolFunforEveryone.com
All rights reserved. This DMCA site is protected under U.S. and International copyright laws. Do Not Copy any Content or Images. No use is permitted without written permission.