Floating Pool Decorations

Floating pool decorations are always a part of my pool parties. When your guests walk down the steps or around the corner surprise them with a large inflatable floating lizard, octopus or shark in the swimming pool.

Floating Flowers
I love this set of 6 lotus flowers for decorating the pool for parties.  The small loop on the bottom provides a way to anchor them using a fishing line tied around a heavy washer.  If you don't do that they will all bunch up.  
Depending on the size of your pool you will need several sets - one set of 6 is just not enough.  They look like real flowers floating on the top of your pool and make for great floating pool decorations. 
Floating Flowers Large White Set of 6 for Pool Parties
Giant Inflatable Swan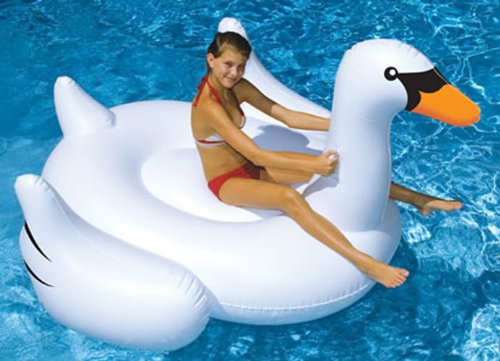 Two of our neighbors have this beautiful swan swimming in their pool all summer. It's really large at 75" long.
Made of durable vinyl it will hold up to 140 lbs. Easy to blow up and only takes 5-10 minutes to blow up with a cheap 120v air compressor.
Two adults or 3-4 small kids can fit on this float.  It will last for several seasons. Not only is this a great way to decorate your pool, it will add lots of fun for adults and kids.
It costs just under $40 and has free shipping from Amazon if you are a Prime Member:

Inflatable Giant Swan
Themed Beach Balls as Floating Pool Decorations

For our granddaughter's Lion King party we bought an this
12-pack of Inflatable Jungle Animal Shaped Beach Balls.
Blow them up and again they should be floating in the pool when the guests arrive.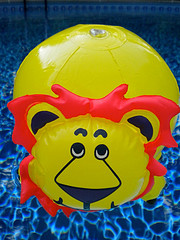 We made sure the birthday girl got the lion beach ball and then let the other kids pick out their favorite jungle animal.

The jungle animal beach balls were used for pool party games and as take home favors.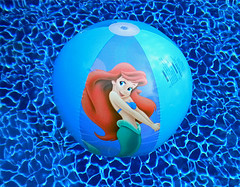 Sometimes a person just gets lucky. The Ariel beach ball was at our local dollar store so I was able to get one for each little "mermaid."

These beach balls are a great way to get "water shy" kids into the pool. Have the balls at a comfortable distance and depth that's geared to the height of the kids and to their swimming ability.


Where do fish belong? In the water :) What's great is that you can buy these
Tropical Fish Beach Balls
in bulk - a set of 12.
Set them out in the pool before the guests arrive and if the party is for kids, let the kids take them home as party favors.
See how putting a theme to your pool party, gives the pool party decorations lots more direction and creativity?

We had these pirate beach balls in the pool when the "little mates" arrived. You can write a guest's name on each of the balls. After all of the guests have arrived, instruct the kids to get into the pool to find their own pirate beach ball.

Pirate Skull Beachball 16 inch (1 Dozen)
Although beach balls with typical beach ball colors works great for any beach party theme, there are now so many really fun and cool beach balls.
I love this bargain from Amazon - 24 beach balls that are nice and large 18":
18'' Rainbow Colored Beach Balls (24 Pack)
From polka dots, to solid colors, to fun and colorful designs, a bunch of large floating beach balls is a great way to decorate for any pool party.
Inflatable Swim Rings as Floating Pool Decorations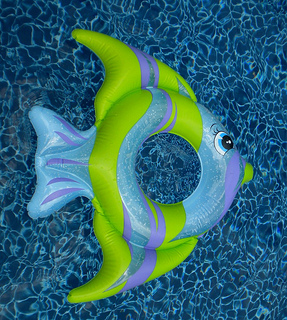 We have several of these tropical fish swim rings and have used them to decorate the pool gate, as fun swim rings for our Under the Sea pool party, and as floating pool party decorations.

Kids who come to the pool love to swim with them. They've been very sturdy and have lasted us several pool seasons.

Buy them on-line at Amazon here:

Intex Tropical Fish Rings
These colorful swim rings are just "begging" for someone to come and play with them. The swimming pool becomes so much more inviting to kids, teens and adults when their are some fun pool floats waiting for them.
Get solid colored or polka dot ones to match your party themed colors or rings to match the theme of your party.
You can find inflatable swim rings at dollar stores, Target, and grocery stores during the summer. Otherwise go to Amazon here:
24" Inflatable Swim Ring
Fun Flip Flop Floats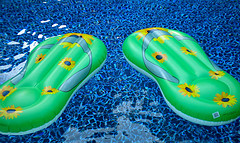 I couldn't resist getting (of course not one - but two) of these flip flop floating air mattresses.

Turn off your pool pump and you might have a better chance of them staying somewhat together.

These swimming pool floats are a great way to decorate for a flip flop themed party.

We used them all summer just as fun floats.

Sunsplash Tie Dye Flip Flop Float 2 Pack
Floating Crocodile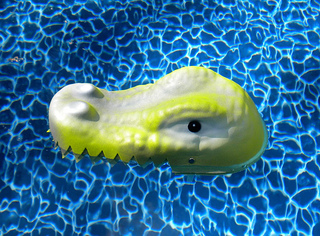 Dangerous crocodiles are lurking on the surface for this jungle pool party.

These are actually foam masks/visors from the dollar store.

Buy several of them and have them floating in the pool as part of your pool party decorations.

Use them later as part of your pool party games. There is a strap on the visor. Have an adult wear it for a "Monkey Chase" game.

Other ideas for floating pool decorations are a shark for a shark party, an octopus for an under the sea party, and an inflatable crocodile for a jungle pool party.

Go from Floating Pool Decorations to Swimming Pool Decorations

Go from Floating Pool Decorations to Pool Fun for Everyone Home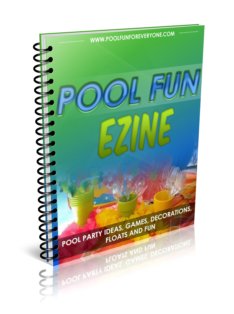 Looking for ideas to have fun with friends and family out by the pool? Get free tips on:
Pool Party Themes, Invitations, Games and Decorations
Outdoor Patio Umbrellas - Frame, Fabric and the Best Size
Swimming Pool Floats for Infants, Kids and Adults

Pool Party Food from Summer Appetizers to Cold Desserts
Outdoor Party Lights
- Patio Umbrella Lights to Solar Torches

Sign up here:
© Copyright 2011 - 2019 www.PoolFunforEveryone.com
All rights reserved. This DMCA site is protected under U.S. and International copyright laws. Do Not Copy and Content or Images. No use is permitted without written permission.