Pool Toy Storage
Pool toy storage solves the dilemma of keeping the pool area looking neat, yet having your swimming pool toys readily available for all the swimmers.
You can often find a pool deck box like this one pictured at your local Home Depot or Lowes store - but normally look in the spring and summer. They usually sell out by fall.  It can be a challenge to get a really large deck box in your car, which makes an on line purchase delivered to your home ideal.

This weatherproof piece can be left outside, near the pool, so that the toys can easily be picked up and stored - yes, the kids need to be responsible for picking up their own pool toys.
Extra Large Deck Box
I was so envious of my neighbor Ashley who had this great spot to place a large pool deck box to store her family's pool stuff.  So at the end of this summer, we had all the holly bushes ripped out by the back of the garage which is close to our pool area.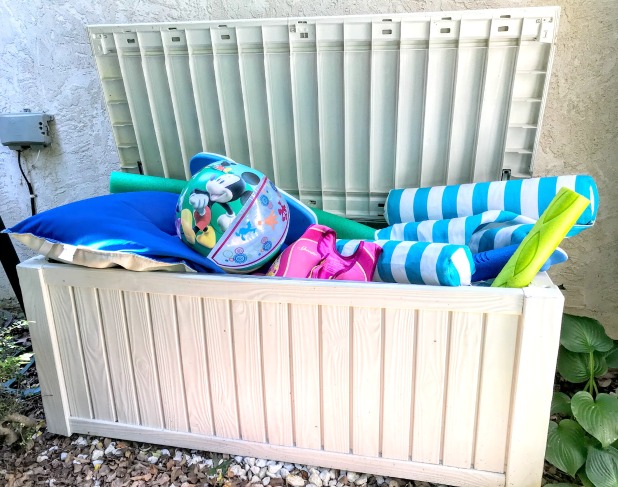 Some quick shopping on the internet and I found the LARGEST pool deck box possible ....and I found it at Amazon with free shipping.  I love how it saves a trip to the store and no, the box would not have fit in the trunk of my car anyway.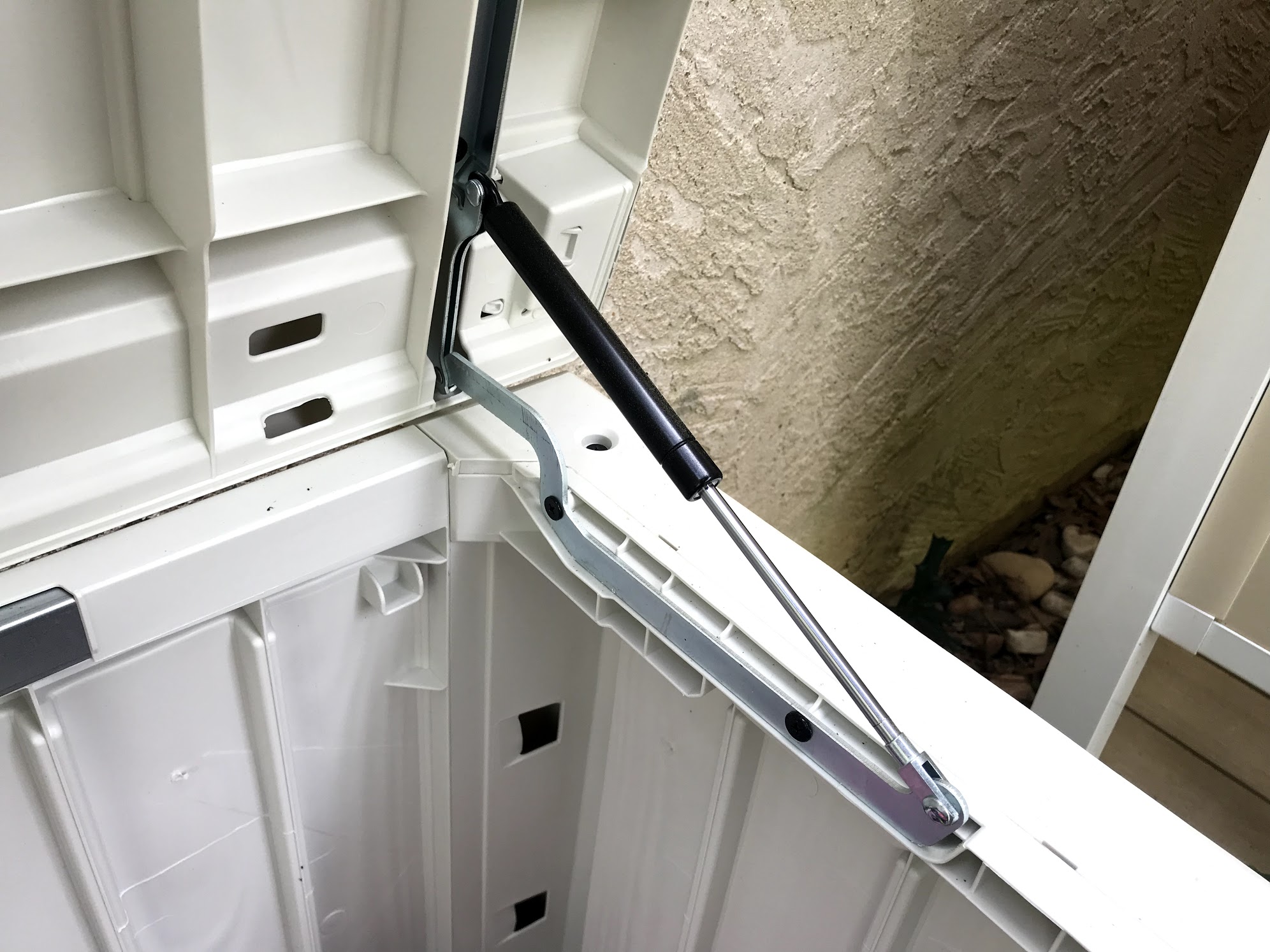 You can also use it as a bench since it has a flat top and will hold two adults with a maximum of 660#.  An automatic easy opening mechanism makes it easy to open and the lid will stay open while you dig out what you need. 
If you are needing a really large deck storage box, you will love this 150 gallon Keter Deck Storage box.  Through the winter it keeps our cushions, pool toys and floats dry with no mold or debris.
Made out of durable and weather-resistant resin, it's very sturdy and should last for years.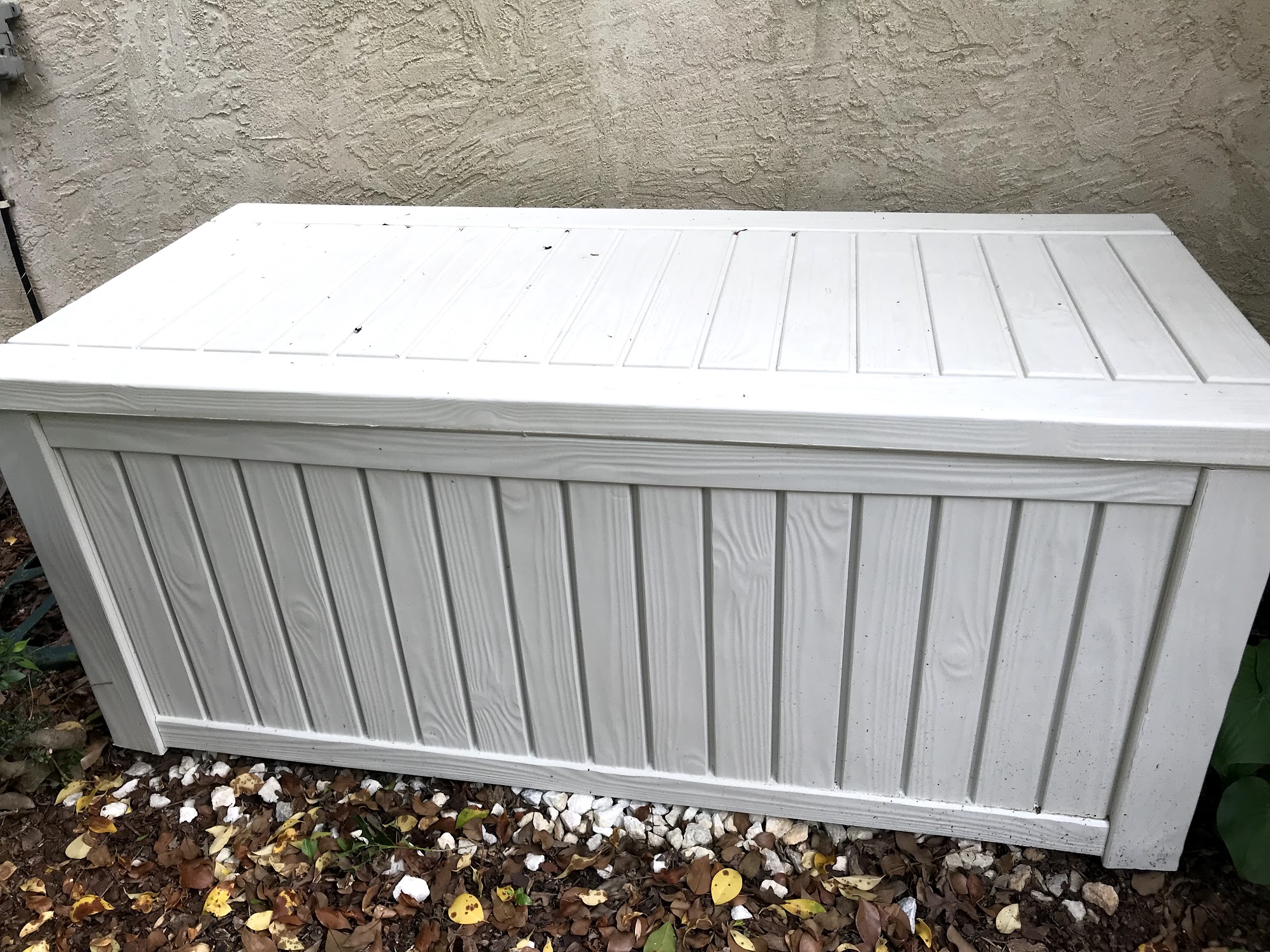 I am so happy to NOT be trimming any more prickly holly and to have a great organizer to store all of our pool stuff.  
Outdoor Cushion Storage
There is no need to store your outdoor patio chair cushions or your chaise lounge cushions in your house, garage or on the porch.  Keep them protected year round by storing them in this 150 gallon deck box that keeps everything dry and mold free.  Check it out at Amazon here:
Keter Westwood Plastic Deck Storage Box 150 Gal
Outdoor Wicker Pool Toy Storage
This mocha brown wicker resin deck storage box is a great place to hide your pool toys and protect your outdoor cushions.

Measuring 50"WX25.5"D and 25.5" H there is plenty of room in this 99 gallon capacity deck box to keep your pool area tidy and neat.
Made of durable resin you will get many years of use while keeping your pool floats, toys and cushions dry and free of mold.

Suncast DBW9200 Mocha Resin Wicker Deck Box, 99-Gallon
No more floats and toys left out to blow away. Tidy up your pool area with these pool toy storage ideas. Make it easy for kids to put away their pool stuff and take them out when they are ready to play with them again.
Go from Pool Toy Storage to Swimming Pool Toys

Go from Pool Toy Storage to Pool Fun for Everyone Home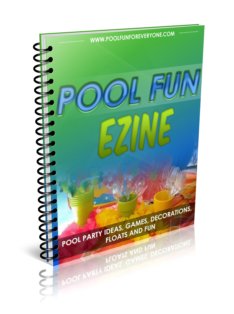 Looking for ideas to have fun with friends and family out by the pool? Get free tips on:
Pool Party Themes, Invitations, Games and Decorations
Outdoor Patio Umbrellas - Frame, Fabric and the Best Size
Swimming Pool Floats for Infants, Kids and Adults

Pool Party Food from Summer Appetizers to Cold Desserts
Outdoor Party Lights - Patio Umbrella Lights to Solar Torches


Sign up here:
© Copyright 2011 - 2023 www.PoolFunforEveryone.com
All rights reserved. This DMCA site is protected under U.S. and International copyright laws. Do Not Copy any Content or Images. No use is permitted without written permission.