Quinoa Salad Recipe
Looking for a quinoa salad recipe? Quinoa is so easy to make and it is gluten-free for those who can't have gluten. Packed with some good nutrition and good taste, you may never go back to pasta salads.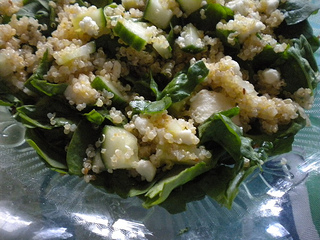 Quinoa is tasty, healthy and makes for great summer salad recipes to serve a crowd - much easier and better for you than a pasta or potato salad. I get mine from Nuts.com because it has been pre-rinsed. Cook 1 cup of quinoa in two cups of water or per package instructions.
Ingredients:
3 Tablespoons of Olive Oil
2 Tablespoons of Red Vinegar
1/2 Teaspoon Ground Cumin (Can leave out if you don't like)
2 Cloves of Minced Garlic
1/2 Cut up Cucumber
2 Sliced Green Onions
3 - 4 oz of Crumbled Feta Cheese
4 oz of Cut Up Spinach
Add all ingredients, toss, refrigerate and serve. Serves a large crowd and can be made ahead of time.
Fresh Vegetable Quinoa Salad
Just mix 1 cup quinoa with 2 cups of water, bring to a boil and let it simmer for 15" and that's it.
Let it cool and add any kind of vegetable to make your own favorite salad. This one pictured has celery, carrots, green pepper, tomato, cucumber and fresh parsley with olive oil and lemon juice for dressing. Salt to your preference.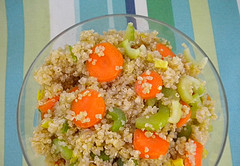 Mediterranean Quinoa Salad Recipe
This is really is a favorite - so many great flavors. Make it ahead of time and serve it with grilled chicken, hamburgers or steaks.
Ingredients:
2 Cups of Cooked Quinoa
2 Cups of Sliced Grape Tomatoes
1 1/2 Cups of Chopped Spinach
1/2 Chopped Kalamata Olives
1/2 Cup of Feta Cheese
Dressing:
1 Tablespoon of Olive Juice from your jar of olives
2 Tablespoons of Olive Oil
1 Teaspoon of Dried Oregano
2 Cloves of Minced Garlic
Mix and pour over the quinoa salad. Season with salt and pepper.
Greek Quinoa Salad
This is my variation of Greek Quinoa Salad by Wendy from www.CookingQuinoa.net
Make 2 cups of quinoa according to package directions and let it cool.
Make a dressing of:
3 Tablespoons of Olive Oil
1/4 Cup of Freshly Squeezed Lemon Juice
1/4 Cup of Red Wine Vinegar
Salt and Pepper to Taste
Then Add:
1 cup chopped red or orange pepper
1/2 cup green onion
1/2 cup black olives
1/4 cup red onion
1 cup cherry tomatoes, chopped
4 ounces feta cheese
1/3 cup fresh parsley Combine vegetables in a large bowl. Stir in cooled quinoa and cheese. Top with dressing. Serve at room temperature or chilled.


Quinoa Salad Recipe with Black Beans
If you like cilantro, lime, black beans and avocados, you will love this salad.
It was served as our main meal for lunch around the pool with a couple of girlfriends. Served it with some organic blue corn chips and guacamole dip for an easy, tasty and healthy meal.
Since this recipe was found in book I purchased, I can't share it here. But for less than $4.00 I am really enjoying the recipes in it:
Quinoa Salad and Side Dishes: Quick and Easy Quinoa Salad and Side Dish Recipes
Easy Almonds and Dried Cranberry Salad
To two cups of cooked quinoa add:
3/4 cup sliced or slivered almonds
1/3 cup toasted sunflower seeds
3/4 cup dried cranberries
2 cups fresh spinach, torn or sliced thinly
Dressing:

2 tablespoons apple cider vinegar
2 teaspoons of balsalmic vinegar
1 teaspoon of red wine vinegar
2 tablespoons olive oil
1 teaspoon agave nectar
salt and pepper to taste
Lemon Basil Quinoa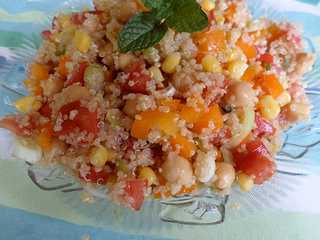 This is a light refreshing salad with some added protein, thanks to the garbanzo beans.
2 Cups of Cooked Quinoa
1 15 oz can of garbanzo beans (rinsed and drained)
1 Orange Bell Pepper diced
4 Green Onions sliced
1 1/2 Cups of Corn - I use frozen, organic corn
Dressing:
2 Tablespoons of Olive Oil
2 Tablespoons of Fresh Lemon Juice
1 1/2 Tsp of Basil
Salt and Pepper to Taste
Black Quinoa Salad Recipe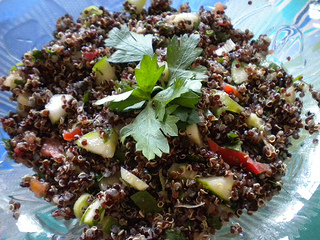 I love black quinoa - it's a bit heartier than regular quinoa. I get organic black quinoa from nuts.com.
Cook 1/2 cup of black quinoa according to package directions and cool
Add:
1/2 cup of cut up cucumber
1 sliced green onion
1 cut up roma tomato
1 clove of garlic minced
1 tablespoon of cilantro
2 tablespoons of grape seed oil
1 tablespoon of seasoned rice vinegar ( my husband doesn't like a strong vinegar taste - so this is a milder tasting vinegar)
Toss and refrigerate or serve right away. Quinoa salads can be made ahead of time which I love. No last minute chopping and cutting.
Go from Quinoa Salad Recipe to Cold Salad Recipes 

Return to Pool Fun for Everyone Home